Okavango Wilderness Project

Learn how you can help protect the Okavango
What We're Doing
The Okavango Delta is one of the largest freshwater wetlands in southern Africa, the main source of water for a million people, and one of Africa's richest places for biodiversity. Since 2015, National Geographic Fellow Dr. Steve Boyes and an interdisciplinary team of scientists and explorers have been surveying the river system and working to protect the Okavango watershed.
The Expeditions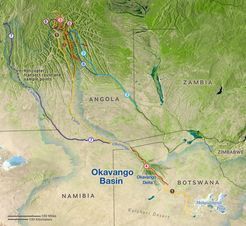 Map by NGS Staff; Martin Gamache, Art of the Mappable
2017 Expeditions
6 ——— April-May: Source Lake Survey
7 ——— May-July: Cubango Megatransect
4——— August: Annual Delta Crossing
2018 Expeditions
8

———

May-June: Kembo River Megatransect


9———

May-August: Cuando River Megatransect
4———September: Annual Delta Crossing
INTO THE OKAVANGO
Into the Okavango is a documentary film about the Okavango Wilderness Project
from National Geographic Documentary Films.
PROTECTING THE OKAVANGO RIVER BASIN
In partnership with Google, our Google Voyager story uses the newly visualized Human Impact data and provides on-the-ground data and storytelling from National Geographic's Okavango Wilderness Project expeditions to show how we can better protect the natural resources and wildlife of regions like the Okavango watershed.
A Planet in Balance
See how you're helping us create a healthier and more sustainable planet.
Satellite map source: NASA, HydroSHEDS; Satellite map credit: Martin Gamache, Art of the Mappable; Expedition map source: HydroSHEDS; Expedition Map credit: Martin Gamache, Art of the Mappable; Photographs by Chris Boyes ("Water"), GÖTZ NEEF ("Biodiversity"), Kostadin Luchansky/Angola Image Bank ("Community").