Protecting the Ocean's Vital Places

Spending weeks at sea, diving thousands of hours, and seeking out some of the least explored and understood places in the ocean, National Geographic Explorer in Residence Enric Sala and a team of determined scientists and filmmakers work to inspire the creation of protected areas where marine life can thrive—while ensuring effective management for years to come.
36
Expeditions completed
around the world
6.5M
Over 6.5 million
square kilometers protected
26
Marine reserves
created
Where We Work
Since 2008, Pristine Seas has carried out expeditions in 36 places, 26 of which have since been protected, covering a total area of more than 6.5 million square kilometers — more than twice the size of India.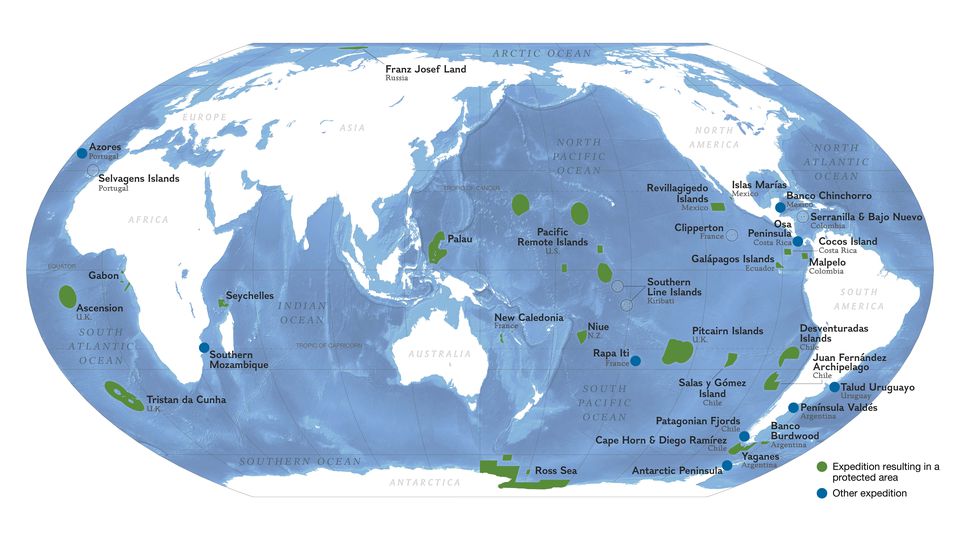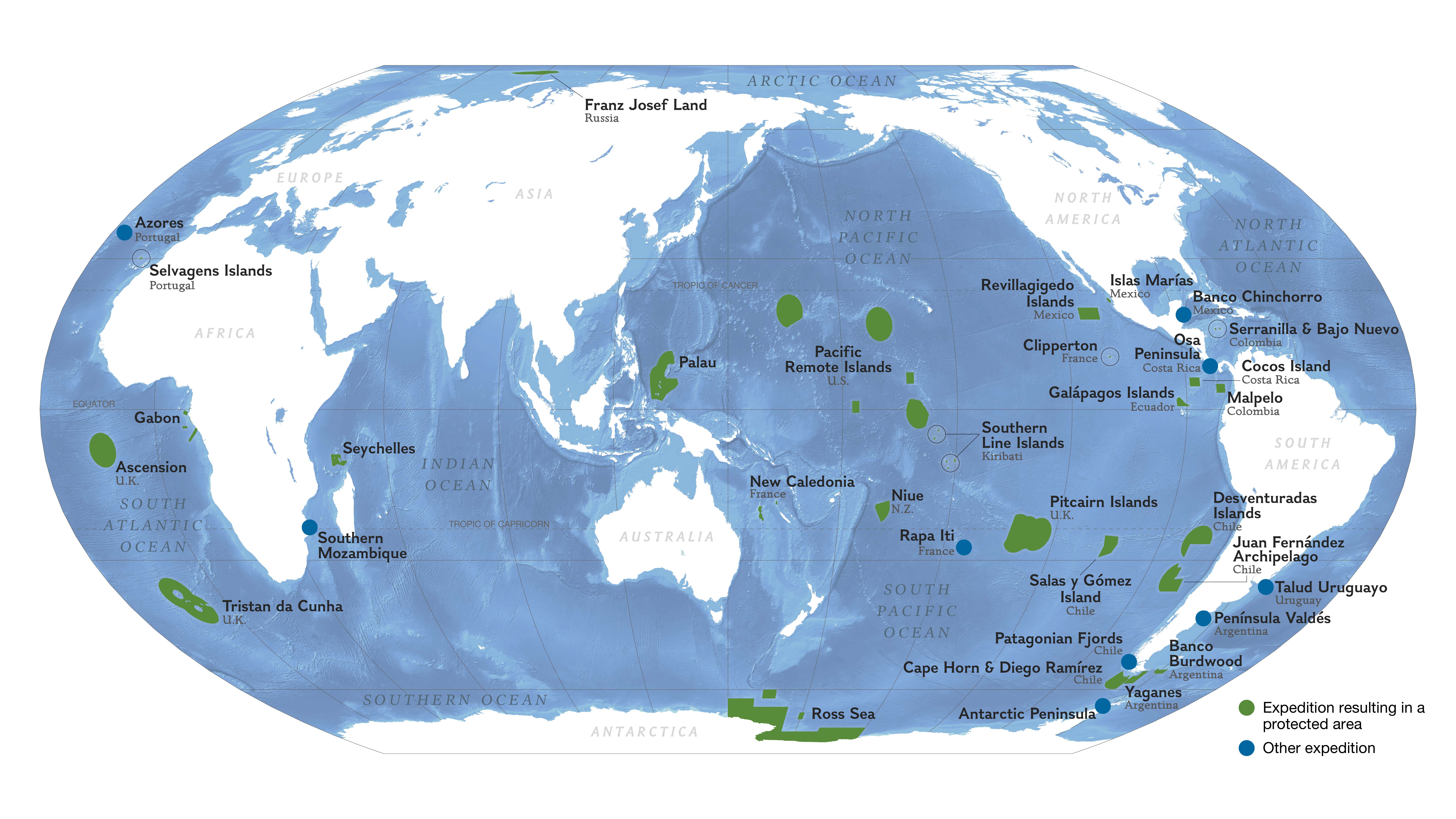 Map by Sam Guilford, NGS staff
Protected Areas

A Closer Look

Our team of scientists, filmmakers and policy experts have traveled to vital places in the ocean, to inspire the creation of marine protected areas. Take a closer look at some of our success stories from around the world.

Protected Area

Tristan da Cunha

Tristan da Cunha is a remote group of islands in the South Atlantic with an irreplaceable population of seabirds and a unique marine ecosystem. In 2020, the U.K. government and the people of Tristan da Cunha made a visionary declaration to create the Atlantic's largest marine reserve.

Protected Area

JUAN FERNÁNDEZ ARCHIPELAGO

Six hundred kilometers off the coast of Chile lies the Juan Fernández Archipelago. We worked with the local community to support their proposal to create the largest marine park of the South American continent, protecting its waters from industrial fishing and benefiting tourism and local fishing.

Protected Area

REVILLAGIGEDO ISLANDS

In partnership with Mares Mexicanos, we conducted an expedition to the Revillagigedo archipelago, "the Galapágos of Mexico," home to extraordinary life, including sharks, manta rays and whales. A year later, the government of Mexico created and expanded the island's existing MPA.

PROTECTED AREA

NIUE

Niue, a raised coral atoll, is an island country in the South Pacific, home to an incredible shark refuge of grey reef sharks, a globally threatened species. In 2017, the government of Niue announced the creation of a large-scale marine protected area of 127,000 square kilometers.
Latest Stories
Our impact is often featured in the news. Here are some of the most recent stories about the work the Pristine Seas team is doing around the world.
The National Geographic Society's Pristine Seas project has teamed up with Inuit elders and experts to visit areas of the North to highlight and help preserve key areas.

There is no other place in the world like Costa Rica's Cocos Island National Park. The waters surrounding the island--covered with tropical forests--are a playground to countless shivers, or school.

Drawing attention to the critical yet overlooked role oceans play in keeping the planet cool, safeguarding species, and supporting food security the leaders of Colombia, Costa Rica, Ecuador and Panama launched a new marine protected area to be called the Eastern Tropical Pacific Marine Corridor.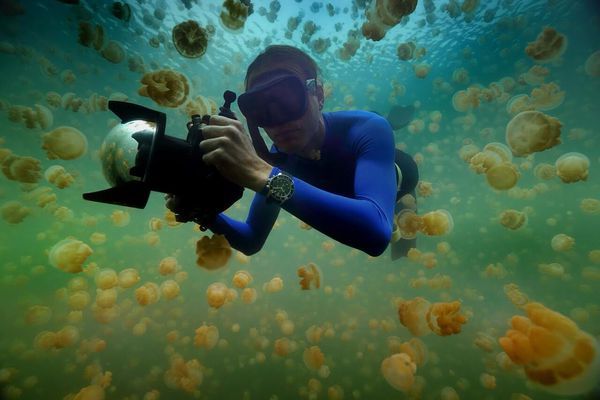 Photograph by Manu San Felix
About Pristine Seas
Since 2008, Pristine Seas has carried out expeditions in 36 places, 26 of which have since been protected, covering a total area of more than 6.5 million square kilometers — more than twice the size of India.
With Support From
FOUNDING SPONSOR
Blancpain
FUNDING PARTNERS
Beagle Foundation, Allison Bennington, Bezos Earth Fund, Bloomberg Philanthropies, Brook Foundation, The Campbell Foundation, Jean and Steve Case, Leonardo DiCaprio Foundation, DAVIDOFF Cool Water, Don Quixote Foundation, Dutch Postcode Lottery, Roger and Rosemary Enrico, Brandon Green, The Heinz Family Foundation, Helmsley Charitable Trust, Inclusive Capital Partners Foundation, LGT Venture Philanthropy, Lindblad Expeditions–National Geographic Fund, Oracle, David and Lucile Packard Foundation, Serventi Family Foundation, Philip Stephenson Foundation, Prince Albert II of Monaco Foundation, Vicki and Roger Sant, Waitt Foundation, and other individual donors.