Photo Ark Zoo Exhibitions
Bring your classroom face-to-face with the animals of the Photo Ark in this large outdoor installation touring to zoos across the country and around the world.
The National Geographic Photo Ark is a multiyear effort led by photographer Joel Sartore that aims to document every species currently held in human care, inspire action through education, and help save animals facing extinction in the wild by supporting on-the-ground conservation projects.
Zoos across the country are hosting Photo Ark exhibitions to raise awareness and help build a community around these issues. The exhibitions will also highlight some of the important conservation work taking place in zoos, aquariums, and wildlife rescue centers around the world. Each exhibition will feature large-format prints, as well as a grid of many more images to highlight the range of species in the Photo Ark. Visitors will learn more about what they can do to help save species and support National Geographic grantees working to protect animals at risk in the wild.
National Geographic has created educational resources and activities to supplement learning before, during, and after exhibition visits so students and families can get the most from their Photo Ark experience.
For Your Field Trip to the Zoo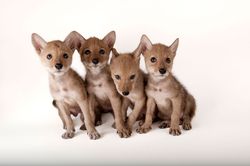 Highlight conservation and the power of storytelling with these exercises for elementary and middle school students.

Encourage students to think about species conservation with this printable scavenger hunt. Download the PDF
Photo Ark in Explorer Magazine
Kids in grades K-6 will love seeing captivating Photo Ark images on the pages of Explorer magazine. Get your free copy of the special Photo Ark edition at the link below.
Subscribe to Explorer magazine. Use code: M1704NEW
Zoo Photos: Courtesy Dallas Zoo and Los Angeles Zoo and Botanical Gardens