The ocean is filling up with plastic garbage. Some is floating on the ocean's surface. The rest is underwater.
Marcus Eriksen is an ocean scientist. He calculated that there are 5.25 trillion pieces of plastic floating on the sea surface. It all adds up to 269,000 tons. That is heavier than 11 Statues of Liberty. Many scientists think there is even more than that.
Birds and sea animals are getting caught in plastic rings and nets. Fish are swallowing small pieces. Plastics are full of poisons.
Things are not good underwater either. Eriksen said plastic gathers together in big clumps on top of the water. Then, it slowly breaks down. As it breaks apart, tiny pieces fall into deeper water. These pieces are called microplastics. Many are so small they can't be seen without a microscope. Water currents carry them all across the planet.
Sort Out The Rubbish
Why does so much plastic end up in the ocean? Most of the world's plastic is quickly thrown away. Around a third is thrown away after being used just once.
Scientist Peter Ryan knows the problem is very serious. Still, he believes it can be solved. We just have to get better at handling our garbage, he said.
Ryan has been tracking plastic garbage for 30 years. He began by studying seabirds. "The birds were eating floating plastic pellets. At the time, the little plastic balls were found often in ocean water. Since then, things have gotten better. Today, ships are much more careful about not spilling the pellets. If you go to the beach today, it's hard to find even one pellet," Ryan said.
So, some things have gotten better. Yet, other things have gotten worse. There are now many more microplastics in the ocean. Scientists are worried about this. They are not sure what these plastics are doing to fish and other sea animals. They don't know how harmful the poisons in plastic are.
Emily Penn sails a boat called the Sea Dragon. It is used by scientists to track ocean garbage. Penn is still shocked by how much they find. "The ocean looks like it is clear blue water," she said. Then, the scientists drop a net into the water. When they pull it up, Penn said, thousands of pieces of plastic come with it.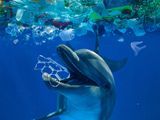 concentration
measure of the amount of a substance or grouping in a specific place.
consequence
result or outcome of an action or situation.
debris
remains of something broken or destroyed; waste, or garbage.
disseminate
to scatter or spread widely.
community and interactions of living and nonliving things in an area.
fraction
number expressed as a ration, such as a/b.
ingest
to take material, such as food or medicine, into a body.
manufacture
to make or produce a good, usually for sale.
meticulous
very detailed and precise.
microplastic
piece of plastic between 0.3 and 5 millimeters in diameter.
plastic
chemical material that can be easily shaped when heated to a high temperature.
seabird
bird native to an aquatic environment.
staggering
overwhelming or shocking.
toxin
poisonous substance, usually one produced by a living organism.