National Geographic Educator Certification is a free professional development program that recognizes pre-K through 12 formal and informal educators committed to inspiring the next generation of explorers, conservationists, and changemakers. These educators are part of a powerful movement to make the world a better place by empowering students to be informed decision-makers equipped to solve meaningful challenges in their communities and beyond. Don't just teach students about the world—teach them how to change it.
To be notified when enrollment opens again, please fill out and submit this brief interest form.
Note: This course was primarily designed for educators in the U.S. and Canada who teach students in grades pre-K through 12, so it is grounded in education standards and cultural norms relevant to that context. If you teach outside of the U.S. or Canada, or if you work with learners outside this grade range, you are welcome to participate but some adaptations may be necessary.
Benefits of Certification
This professional development program builds educators' skills in generating classroom activities that are interdisciplinary and centered around real-world problems at local, regional, and global scales. Participants also gain an understanding of the National Geographic Learning Framework, a standards-aligned tool designed to develop an explorer's mindset in students of any age. Certified educators receive a certificate and digital badge, and National Geographic notifies their administrators of the achievement.
Certified educators join an exclusive community of educators committed to supporting each other's continuous growth. Members of this community teach in a wide variety of professional settings at various grade levels and across all subject areas. What unites them is the desire to innovate across discipline and empower students to take action to make the world a better place. Members of this unique group say participation has reinvigorated their teaching practice.
Certified educators are re-inventing education, and National Geographic wants to follow their lead. This group is uniquely qualified for volunteer and paid professional opportunities to advise on content and programming, lead National Geographic trainings, and serve as mentors to other educators. They receive early access to new National Geographic programs—including classroom connections with National Geographic Explorers. Some certified educators also become Grosvenor Teacher Fellows.
Who are certified educators?
National Geographic Certified Educators teach in a huge variety of contexts—from pre-K through 12 across all subject areas—in classrooms as well as in informal settings. Meet a few of our certified educators below.
Program Overview
The Educator Certification program consists of three phases: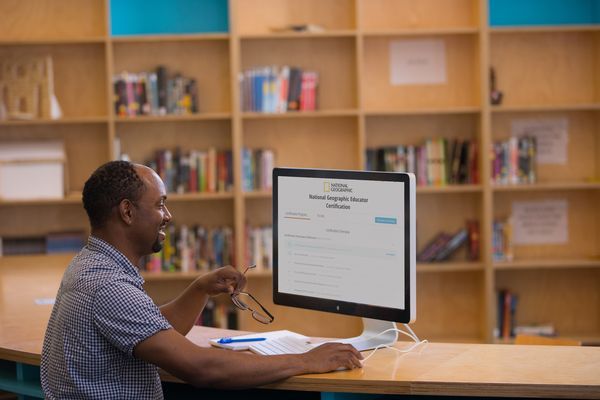 Photograph by Rebecca Hale
Participate in an in-person or online workshop to hone your skills in National Geographic's educational mission: We teach kids about the world and how it works, empowering them to succeed and to make it a better place.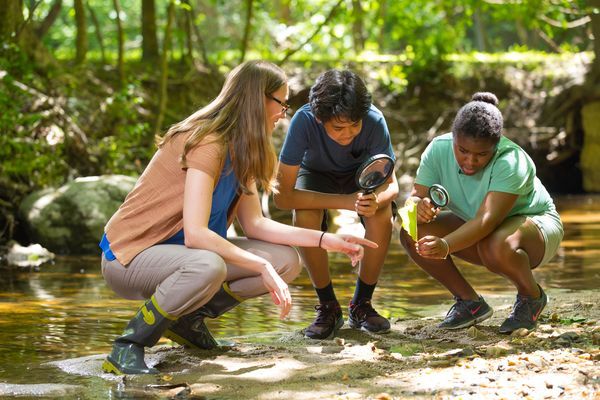 Photograph by Rebecca Hale
Develop and implement two activities that apply the skills gained in Phase 1 and incorporate a National Geographic resource.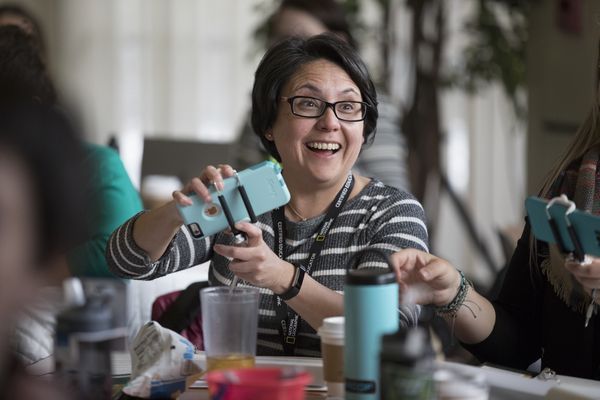 Photograph by Rebecca Hale
Craft a capstone project that tells the story of student learning, demonstrates professional growth, and inspires other educators.
Frequently Asked Questions
Who should enroll in the Educator Certification program?

Our program is primarily designed for pre-K–12 educators who work in formal or informal settings in the United States and Canada. However, it is open to interested participants worldwide. Please note that all certification materials and deliverables are in English at this time.

Is there any cost to participate?

There is no cost to participate in this program.

Is this program offered in person or virtually?

Certification can be done fully online. At times, the phase 1 workshop is offered in person (i.e. at conferences), in which case participants can sign up for the next cohort and pick up online at phase 2.

Are there any technological requirements?

To enroll in the workshop and complete the capstone you need a computer or mobile device and internet connection. You will be expected to navigate and interact in an online course platform and produce a short video. Don't let that intimidate you—many participants produce a video for the first time as part of certification.

How much time does certification take?

Certification in total takes around 20 – 30 hours spaced out over three months. Once you enroll, we will provide recommendations for deadlines, but you are welcome to complete the program at your own pace.

Can I get CEUs or other professional development credits for doing this program?

While we don't offer CEUs at this time, many districts provide credit hours for online professional development programs. The hours allotted for certification are 20. If you need us to sign a form, please email coursesupport@ngs.org.

How often do certification cohorts run?

Certification is open for three cohorts each year—one beginning in the fall (typically September), one beginning in the winter (typically January), and one beginning in the spring (typically April).

Can peers collaborate and do the certification coursework together?

You are welcome to collaborate, share ideas, or provide feedback for any part of certification, but the work you submit must be done on your own and be unique from one another. For example, if you and a colleague decide to collaborate to implement the classroom activities in Phase 2, you can plan and implement together but must write your own reflections and produce your own video. It might be a good idea to take the lead on different parts of the implementation or to work with a colleague who typically works in a different subject or grade so your experiences and expertise can complement one another. If you collaborate with a partner on lesson planning and implementation, it is acceptable to submit similar lesson plans.

I'm an education professional or pre-service teacher, but do not have regular access to a classroom or to groups of young learners, or have access to learners but not Pre-K through 12 (i.e. adult learners). Can I still be certified?

In Phase 2 of certification you are asked to implement two activities with Pre-K through 12 learners. If you are an education professional or pre-service teacher and do not have your own class, see if you can co-teach or guest teach a lesson, or find an informal educational setting (i.e. afterschool program) where you would be able to work with students. It is fine if your two lessons are taught to two different groups of students or happen in different teaching settings, as well.

If you do not teach in the Pre-K through 12 range but are a formal or informal educator, you can still participate but will likely have to adapt the resources and materials to fit your needs as they were designed with the Pre-K through 12 educator and learner in mind.

I am not an education professional (i.e. formal or informal educator, school administrator, instructional coach, pre-service teacher)—I am a parent, hobbyist, etc. Can I still be certified?

You may join the course and participate, but note that your work might not be evaluated and you are not eligible to be a National Geographic Certified Educator. You will also not be eligible to work with a Certification Mentor as we prioritize educators for these limited opportunities. Additionally, you would not be eligible for our leadership opportunities, such as the Grosvenor Teacher Fellowship, becoming a course Mentor or TA, being on a steering committee, or other similar positions.

How do I register?
I signed up for one cohort but I won't complete in time. How can I unenroll and/or move to the next cohort? Will the work I've done so far be transferable? Is there a penalty for not completing?

If you wish to express interest in a future cohort that is not open for enrollment at this time (winter, spring, or fall), or need to unenroll, please email coursesupport@ngs.org. Any work you've completed in a previous cohort will not automatically transfer, so we recommend copying it to a personal document to save your work. There is no penalty for not completing certification in your original cohort and we encourage you to enroll in a later cohort.


I already signed up, but I can't find the course link. Where do I go?

Check your enrollment confirmation/welcome email for the course homepage, and be sure to bookmark that page so you can easily access the course. You can also find any course in which you are enrolled through your NGS account.

I completed certification. Now what?

Keep an eye on the Certified Educator Community to find exclusive opportunities for National Geographic Certified Educators. They will be posted periodically throughout the year. We also encourage you to apply for the annual Grosvenor Teacher Fellowship and/or an education grant.

International participants or participants who work with learners outside of the pre-K through 12 range may not be eligible to apply for all opportunities for which certification is a prerequisite.