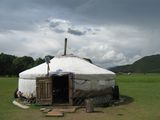 Tipis and Wigwams
Many nomadic cultures of North America developed dwellings similar to yurts. Tipis and wigwams are, like yurts, easy to set up and take down, and a few pack animals can carry the entire dwelling from one place to another.
A tipi is a cone-shaped structure made of tall wooden poles tied together in a point at the top and covered in animal hides. A wigwam looks more like a yurt: It's short, circular, and has a rounded roof. Wigwams, like yurts and tipis, are made with wooden poles. However, unlike the other dwellings, wigwams are usually not covered in animal material such as hides or wool. Wigwams are most often covered in reeds, tall grasses, or cloth, such as cotton.
Go to Your Corners?
Large yurts are usually divided into many separate spaces, and sometimes have a discrete second "floor" or cupola near the crown.
Intangible Cultural Heritage
In 2013, the "traditional craftsmanship of the Mongol Ger and its associated customs" was recognized as a part of our Intangible Cultural Heritage by UNESCO.
Impacts of Climate Change
Climate change has influenced the weather in Mongolia to the point that it's threatening traditional yurt cultures. Climate change has contributed to an increased chance of a dzud hitting Mongolia. A dzud describes a local weather pattern in which a particularly dry summer is followed by a harsh winter. Dry summers make it harder to grow and harvest grass, and harsher winters require an even bigger supply of fodder. As many as 10 million livestock perished during the dzud of 2009. Nomadic herders are forced to abandon their gers and move to Ulaanbaatar.
Inspirational Nat Geo
The man who introduced yurts to the U.S., William Coperthwaite, was inspired to pursue his interest by an article on Mongolia in a 1962 issue of National Geographic magazine.
aerodynamics
the study of how air moves.
aircraft cable
type of very strong wire rope.
harmful chemicals in the atmosphere.
altar
structure, often elevated, where religious ceremonies are performed.
backcountry
sparsely populated rural region.
bagana
pillars that can support the heavy central roof (crown) of a yurt.
bathhouse
facility often featuring hot springs, spas, medicinal treatments, or swimming pools.
bentwood yurt
Central Asian dome-shaped tent dwelling made of bent wooden poles.
area of the planet which can be classified according to the plant and animal life in it.
carpet
heavy fabric used to cover floors.
cashmere
type of fine, soft material made from wool of the cashmere goat.
cavalry
military unit that serves on horseback.
circulate
to move around, often in a pattern.
dark, solid fossil fuel mined from the earth.
compress
to press together in a smaller space.
conquer
to overcome an enemy or obstacle.
crown
partly open central part of the roof of a yurt.
cultural geography
study of the impact of human culture on the landscape.
growth, or changing from one condition to another.
shape that is half of a sphere.
domesticate
to tame or adapt for human use.
efficient
performing a task with skill and minimal waste.
electrical grid
network of cables or other devices through which electricity is delivered to consumers. Also called a power grid.
empire
group of nations, territories or other groups of people controlled by a single, more powerful authority.
essentially
basically or in general terms.
extreme weather
rare and severe events in the Earth's atmosphere, such as heat waves or powerful cyclones.
felt
type of fabric made by applying moisture, heat, and pressure to wool.
fiber
threadlike material produced by some animals, such as spider silk or wool.
formidable
intimidating, or causing fear or hesitation due to difficulty.
gallop
to ride a horse at full speed.
generation
time between an organism's birth and the time it reproduces.
Genghis Khan
(1162-1227) founder of the Mongol empire.
ger
Mongolian circular tent dwelling.
grassland
ecosystem with large, flat areas of grasses.
hardwood
the strong, dense wood, of flowering trees.
practice of caring for roaming groups of livestock over a large area.
Herodotus
(about 484 BCE to 425 BCE) Greek historian.
high-tech
having to do with advanced technology.
identity
how a person defines themselves, or how others define them.
infrastructure
structures and facilities necessary for the functioning of a society, such as roads.
insulate
to cover with material to prevent the escape of energy (such as heat) or sound.
khana
section of the lattice wall of a yurt.
lattice
strips of wood or other material assembled in a crisscross pattern.
leather
skin of an animal, prepared for use as clothing, protection, shelter, or other use.
Marco Polo
(1254-1324) Italian explorer.
merchant
person who sells goods and services.
moat
trench around a castle, filled with water, to prevent or delay attack or invasion.
Mongol Empire
(1206-1368) area of Asia and Europe conquered and ruled by Mongolian leaders. Largest contiguous land empire in history.
natural hazard
event in the physical environment that is destructive to human activity.
nomad
person who moves from place to place, without a fixed home.
orientation
an object or person's position in relation to true north.
pack animal
domesticated animal used by humans for transporting goods.
introduction of harmful materials into the environment.
population
total number of people or organisms in a particular area.
portable
able to be easily transported from one place to another.
rainy season
time of year when most of the rain in a region falls.
river valley
depression in the earth caused by a river eroding the surrounding soil.
rural
having to do with country life, or areas with few residents.
rustic
having to do with rural life, usually associated with a connection to nature and the land.
sacred
greatly respected aspect or material of a religion.
sauna
room in which steam causes visitors to sweat.
Scythia
prehistoric land stretching from the eastern Black Sea to what is now Kazakhstan and Kyrgyzstan.
secure
to guarantee, or make safe and certain.
sewage
liquid and solid waste material from homes and businesses.
shrub
type of plant, smaller than a tree but having woody branches.
Siberia
region of land stretching across Russia from the Ural Mountains to the Pacific Ocean.
ancient trade route through Central Asia linking China and the Mediterranean Sea.
spa
facility, usually with mineral hot springs, offering health benefits.
dry, flat grassland with no trees and a cool climate.
stove
device that supplies heat for warmth, cooking, or other purposes.
symbol
something used to represent something else.
degree of hotness or coldness measured by a thermometer with a numerical scale.
the Stans
collective term for the Central Asian countries of Afghanistan, Kazakhstan, Kyrgyzstan, Pakistan, Tajikistan, Turkmenistan, and Uzbekistan.
toono
ceiling window of a yurt.
tourist
person who travels for pleasure.
trade
buying, selling, or exchanging of goods and services.
transportation
movement of people or goods from one place to another.
trench
long, deep depression, either natural or man-made.
movement of air (from a high pressure zone to a low pressure zone) caused by the uneven heating of the Earth by the sun.
windbreak
structure that serves to interrupt an air current or flow of wind.
wool
thick, soft hair of some animals, such as sheep.
portable circular dwelling made of a criss-crossed wooden frame covered in felt and popular in Central Asia.
yurt quarter
section of an urban area made up largely of yurt dwellings.