People use symbols to provide concrete representations of qualities, ideas, or concepts. Authors of fiction, for instance, might use a simple word or event as a symbol for something deeper or more significant in a story. Visual artists sometimes use a certain object to illustrate a higher concept, such as a snake to show danger or a dove to reflect peace. Even colors can be used as symbols for concepts, such as red for anger.

In everyday life, warning signs on roadways or in office buildings use universal symbols to convey danger, such as a skull and crossbones for something that is poisonous, or an exclamation point for something that is hazardous. Or, they might show simple, less urgent warnings, such as illustrations of people walking to show the location of a crosswalk.

Religions also have their own sets of symbols to represent the divine or sacred. Sometimes, religious symbolism can include objects, such as the Christian cross or the Muslim symbol for Muhammad, who—most Muslims believe—should never be shown in human form. Other times, religious symbols are gestures or actions, such as standing during Amidah, which is a series of prayers in Judaism.

Symbols are also used by some people to convey written words. Pictograms, or pictographs, as these symbols are called, were used by the ancient Egyptians, Sumerians, and Chinese and became the basis for these cultures' written languages. In some parts of the world, people still use pictograms to convey ideas and meanings.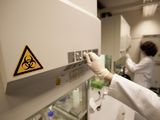 abstract
theoretical, or distinct from a physical object or actual instances.
hazardous
involving the possibility of risk, loss, or harm
pictogram
drawing that symbolizes something
sacred
greatly respected aspect or material of a religion.
symbol
something used to represent something else.
practice of using of symbols, such as an object or a word, to represent something that is abstract or invisible, such as an idea
universal
used or understood everywhere.