There are three major types of ocean gyres: tropical, subtropical, and subpolar.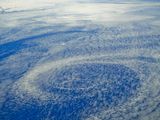 ALOHA!
Some of the leading research on ocean gyres is being conducted at the University of Hawaii at Manoa. Scientists take regular readings of the Pacific Ocean's temperature, chemistry, pollution, turbidity, currents, and plankton and algae communities at a deep-water research station called A Long-term Oligotrophic Habitat Assessment—
ALOHA
.
Horse Latitudes
Many ocean gyres are found in what are called the horse latitudes, between 30 and 35 degrees north and south. These areas are known to have calm waters and little precipitation or winds. Legend has it that the name refers to sailing ships that stalled in these latitudes, leading sailors to throw their horses overboard because they were afraid they would run out of water.