Magma is extremely hot liquid and semi-liquid rock located under Earth's surface. Earth has a layered structure that consists of the inner core, outer core, mantle, and crust. Much of the planet's mantle consists of magma. This magma can push through holes or cracks in the crust, causing a volcanic eruption. When magma flows or erupts onto Earth's surface, it is called lava.
Like solid rock, magma is a mixture of minerals. It also contains small amounts of dissolved gases such as water vapor, carbon dioxide, and sulfur. The high temperatures and pressure under Earth's crust keep magma in its fluid state.
There are three basic types of magma: basaltic, andesitic, and rhyolitic, each of which has a different mineral composition. All types of magma have a significant percentage of silicon dioxide. Basaltic magma is high in iron, magnesium, and calcium but low in potassium and sodium. It ranges in temperature from about 1000oC to 1200oC (1832oF to 2192oF). Andesitic magma has moderate amounts of these minerals, with a temperature range from about 800oC to 1000oC (1472oF to 1832oF). Rhyolitic magma is high in potassium and sodium but low in iron, magnesium, and calcium. It occurs in the temperature range of about 650oC to 800oC (1202oF to 1472oF). Both the temperature and mineral content of magma affect how easily it flows.
The viscosity (thickness) of the magma that erupts from a volcano affects the shape of the volcano. Volcanoes with steep slopes tend to form from very viscous magma, while flatter volcanoes form from magma that flows easily.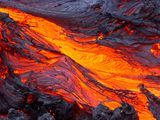 andesite
dark-colored volcanic rock.
basalt
type of dark volcanic rock.
the extremely hot center of Earth, another planet, or a star.
rocky outermost layer of Earth or other planet.
eruption
release of material from an opening in the Earth's crust.
middle layer of the Earth, made of mostly solid rock.
molten
solid material turned to liquid by heat.
rhyolite
fine-grained igneous rock containing large amounts of silica.
sulfur
chemical element with the symbol S.
viscosity
measure of the resistance of a fluid to a force or disturbance.
volcanic
having to do with volcanoes.