Starting in the 1990s, the U.S. government began reintroducing wolves to the Greater Yellowstone Ecosystem. The results have been noteworthy. Elk populations have shrunk, willow heights have increased, and beaver and songbird populations have recovered.
Pockets of the existing Patagonian habitat would collapse without green-backed firecrowns, because their functional redundancy is nearly zero—no other pollinator has adapted to pollinate these plants.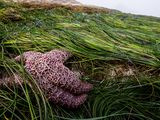 Keystone Trophics
Keystone species are often predators, but not always apex predators. Instead, they are usually secondary consumers. Sea stars, while voracious predators of mussels and barnacles, for example, are a prey species for sea anemones and fishes.
Keystone Hosts
Plants and other producers that provide food and shelter for keystone species are sometimes called keystone hosts. Kelp is a keystone host. Kelp forests provide stabilizing shelter for sea otters, and nutrient-rich food for their prey, such as fish and sea urchins.
Keystone Prey
Keystone prey are species that can maintain healthy populations despite being preyed upon. Wildebeests, prey for predators from lions to crocodiles of the African savanna, are an example of keystone prey.
Nutrient Vectors
Keystone species can sometimes be "nutrient vectors," transferring nutrients from one habitat to another. Grizzly bears, for instance, prey on salmon. They can deposit salmon carcasses miles from rivers and streams. Salmon carcasses decompose and fertilize the soil with nutrients that may not be available from local terrestrial ecosystems.
Keystone Paine
Zoologist Robert T. Paine, who coined the term "keystone species," had an unorthodox way of doing his work. Instead of just observing the habitat of the Pisaster ochraceus sea star, Paine experimented by actually changing the habitat. Paine and his students from the University of Washington spent 25 years removing the sea stars from a tidal area on the coast of Tatoosh Island, Washington, in order to see what happened when they were gone. He was one of the first scientists in his field to experiment in nature in this manner.