The Red River floodway, for example, can divert the path of the Red River around the urban area of Winnipeg, Manitoba, Canada. During flooding episodes, the channel can divert up to 4,000 cubic meters (140,000 cubic feet) of water per second before it reaches the Winnipeg area. The floodway carries this outflow around the city before rejoining the mainstem of the Red River in a less-populated area of the floodplain. Since its construction in 1968, the Red River floodway has saved Manitoba more than $32 billion in flood damage.
There are strict rules for constructing or remodeling buildings in the A-zone of a floodplain. Basements in A-zones must not be used as living spaces, for example.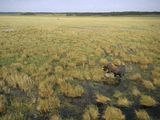 Exner Equation
A mathematical calculation known as the Exner equation helps geologists and hydrologists determine the extent of a floodplain. The Exner equation describes the relationship between the sediment that is transported by a river and the sediment that is deposited by a river. The equation is dominated by the density and distribution of sediment in a river.

is the change in bed elevation.
is time.
is grain packing density.
is sediment flux.
Floodway
The term "floodway" is sometimes used for a road built at ground level on a flood plain. Floodways are usually constructed on floodplains with low traffic and rare floods.