Earth rotates unevenly, spinning faster at the Equator than at the poles. At the Equator, the Earth rotates at about 1,670 kilometers per hour (1,040 miles per hour), while at 45° north, for example, (the approximate latitude of Green Bay, Wisconsin) the Earth rotates at 1,180 kilometers per hour (733 miles per hour).
Earth's rotation causes the periods of light and darkness we call day and night. The part of the Earth facing the sun is in daylight; the part facing away from the sun is in darkness. If the Earth did not rotate, one-half of the Earth would always be too hot to support life, and the other half would be frozen. Earth rotates from west to east, so the sun appears to rise in the east and set in the west.
Almost all materials on Earth are constantly being recycled. The three most common cycles are the water cycle, the carbon cycle, and the rock cycle.
Over a period of about 10 million years, the dense center of the cloud grew very hot. This massive center became the sun. The rest of the particles and objects continued to revolve around the sun, colliding with each other in clumps. Eventually, these clumps compressed into planets, asteroids, and moons. This process generated a lot of heat.
Eventually, Earth began to cool and its materials began to separate. Lighter materials floated upward and formed a thin crust. Heavier materials sank toward the Earth's center. Eventually, three main layers formed: the core, the mantle, and the crust.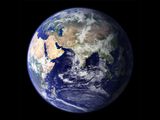 Earth to Earth
Earth is the only planet in the solar system not named for a Greek or Roman god or goddess. "Earth" originally meant the soil and land of our planet. (This is still what it means when the word is lowercase.) Eventually, Earth came to mean the planet itself.
Ingredients for Life
Scientists have gathered enough information about other planets in our solar system to know that none can support life as we know it. Life is not possible without a stable atmosphere containing the right chemical ingredients for living organisms: hydrogen, oxygen, nitrogen, and carbon. These ingredients must be balanced—not too thick or too thin. Life also depends on the presence of water.

Jupiter, Saturn, Uranus, and Neptune all have atmospheres made mostly of hydrogen and helium. These planets are called gas giants, because they are mostly made of gas and do not have a solid outer crust.

Mercury and Mars have some of the right ingredients, but their atmospheres are far too thin to support life. The atmosphere of Venus is too thick—the planet's surface temperature is more than 460 degrees Celsius (860 degrees Fahrenheit).

Jupiter's moon Europa has a thin atmosphere rich with oxygen. It is likely covered by a huge ocean of liquid water. Some astrobiologists think that if life will develop elsewhere in the solar system, it will be near vents at the bottom of Europa's ocean.
Earth by the Numbers
Surface Gravity: 1 (1 kilogram on Earth)
Orbital Period: 365.256 days
Satellites: 1 (the Moon)
Atmosphere: nitrogen (78%), oxygen (21%), argon, carbon dioxide, neon
Average Temperature: 15° Celsius (77 Kelvin, 59° Fahrenheit)