The ancient Greeks were the first to create a democracy. The word "democracy" comes from two Greek words that mean people (demos) and rule (kratos). Democracy is the idea that the citizens of a country should take an active role in the government of their country and manage it directly or through elected representatives. In addition, it supports the idea that the people can replace their government through peaceful transfers of power rather than violent uprising or revolution. Thus, a key part of democracy is that the people have a voice.
The first known democracy in the world was in Athens. Athenian democracy developed around the fifth century B.C.E. The Greek idea of democracy was different from present-day democracy because, in Athens, all adult citizens were required to take an active part in the government. If they did not fulfill their duty they would be fined and sometimes marked with red paint. The Athenian definition of "citizens" was also different from modern-day citizens: only free men were considered citizens in Athens. Women, children, and slaves were not considered citizens and therefore could not vote.
Each year 500 names were chosen from all the citizens of ancient Athens. Those 500 citizens had to actively serve in the government for one year. During that year, they were responsible for making new laws and controlled all parts of the political process. When a new law was proposed, all the citizens of Athens had the opportunity to vote on it. To vote, citizens had to attend the assembly on the day the vote took place. This form of government is called direct democracy.
The United States has a representative democracy. Representative democracy is a government in which citizens vote for representatives who create and change laws that govern the people rather than getting to vote directly on the laws themselves.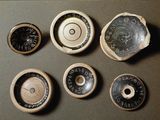 citizen
member of a country, state, or town who shares responsibilities for the area and benefits from being a member.
democracy
system of organization or government where the people decide policies or elect representatives to do so.
representative
someone or something who acts in place of a group of people.
overthrow or total change of government.