Deglaciation refers to the retreat or melting of ice sheets and glaciers. The last period of significant deglaciation marked the end of the most recent ice age, about 8,000 to 17,000 years ago.

Glaciers retreat when ice mass is lost through the melting of ice or through sublimation, the process by which ice evaporates. Several factors impact the rate of deglaciation. A rise in carbon dioxide levels in the atmosphere results in an increase in global temperatures. This warming is considered a primary cause of deglaciation in the 21st century. Such global warming, coupled with diminished yearly snowfall, causes glaciers to retreat faster than they can be replenished. This can result in significant glacial retreat, such as when the Greenland glacier lost more than 10 billion tons of ice in one day in August of 2019.

Deglaciation can have two major effects. First, glaciers shrink in size as the ice mass decreases. Then, much of this meltwater runs off into the ocean, causing a global rise in sea levels.

Glaciers are remnants of the last ice age, which ended, at the latest, 8,000 years ago. They contain clues embedded in ice, like frozen bubbles of ancient air, that provide scientists with evidence of past climate changes. Scientists have used what they have learned from the last period of deglaciation to help predict the future of Earth's glaciers. They have noticed that in recent decades, rates of glacial retreat have increased, releasing tons of ice in the form of water each year. If these trends continue, scientists believe that glacial melt will result in the loss of major frozen reservoirs of freshwater and a minimum of a 1.1-meter (3.5-foot) rise in sea level by the end of the 21st century.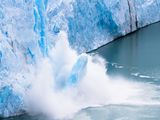 layers of gases surrounding a planet or other celestial body.
carbon dioxide
greenhouse gas produced by animals during respiration and used by plants during photosynthesis. Carbon dioxide is also the byproduct of burning fossil fuels.
gradual changes in all the interconnected weather elements on our planet.
cryosphere
icy part of the Earth's waterincluding icebergs, glaciers, and ice caps.
mass of ice that moves slowly over land.
increase in the average temperature of the Earth's air and oceans.
Ice Age
last glacial period, which peaked about 20,000 years ago.
thick layer of glacial ice that covers a large area of land.
meltwater
freshwater that comes from melting snow or ice.
natural or man-made lake.
sublimation
the process by which snow or ice becomes water vapor without first melting and passing through the liquid phase.