A civilization is a complex human society, usually made up of different cities, with certain characteristics of cultural and technological development. In many parts of the world, early civilizations formed when people began coming together in urban settlements. However, defining what civilization is, and what societies fall under that designation, is a hotly contested argument, even among today's anthropologists.
The word "civilization" relates to the Latin word "civitas" or "city." This is why the most basic definition of the word "civilization" is "a society made up of cities." But early in the development of the term, anthropologists and others used "civilization" and "civilized society" to differentiate between societies they found culturally superior (which they were often a part of), and those they found culturally inferior (which they referred to as "savage" or "barbaric" cultures). The term "civilization" was often applied in an ethnocentric way, with "civilizations" being considered morally good and culturally advanced, and other societies being morally wrong and "backward." This complicated history is what makes defining a civilization troublesome for scholars, and why today's modern definition is still in flux.
Still, most anthropologists agree on some criteria to define a society as a civilization. First, civilizations have some kind of urban settlements and are not nomadic. With support from the other people living in the settlement, labor is divided up into specific jobs (called the division of labor), so not everyone has to focus on growing their own food. From this specialization comes class structure and government, both aspects of a civilization. Another criterion for civilization is a surplus of food, which comes from having tools to aid in growing crops. Writing, trading, artwork and monuments, and development of science and technology are all aspects of civilizations.
However, there are many societies that scholars consider civilizations that do not meet all of the criteria above. For example, the Incan Empire was a large civilization with a government and social hierarchy. It left behind a wealth of art, and had highly developed architecture­­­—but no written language. This is why the concept of "civilization" is hard to define; however, it is still a helpful framework with which to view how humans come together and form a society.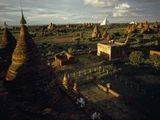 anthropologist
person who studies cultures and characteristics of communities and civilizations.
complex way of life that developed as humans began to develop urban settlements.
civilize
to bring out of a savage or uneducated state.
class
division in society based on income and type of employment.
criteria
set of standards or rules.
learned behavior of people, including their languages, belief systems, social structures, institutions, and material goods.
ethnocentric
evaluating other peoples and cultures according to the belief that one's own culture is superior
government
system or order of a nation, state, or other political unit.
hierarchy
identification of certain actions or items as having greater or lesser relative impacts.
Incan Empire
(1438-1533) empire stretching along the coastal highlands and Andes mountains of South America.
nomadic
having to do with a way of life lacking permanent settlement.
savage
wild, untamed, uncivilized.
society
large community, linked through similarities or relationships.
specialization
process of concentrating on and becoming an expert in a particular subject or skill
surplus
more than what is needed or wanted.
urban
having to do with city life.