Rights to land and natural resources are an important part of contemporary culture and survival of indigenous peoples in the Arctic. Indigenous Arctic communities face tremendous challenges, often the result of colonization and exploitation of land and energy resources.
However, some Arctic nations are claiming territory on their continental shelves, not just their coastlines. Russia, Greenland, Denmark, and Canada, for instance, all claim the Lomonosov Ridge. The Lomonosov Ridge is an undersea mountain chain that stretches from the Canadian Arctic, through the North Pole, all the way to the waters off Siberia.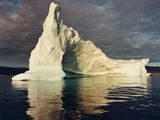 Balmy Arctic
The Arctic is mostly an ocean surrounded by land. The Antarctic is mostly land surrounded by water. Because the Arctic ocean absorbs so much more solar radiation than the Antarctic ice sheet, the Arctic is much, much, much warmer than the Antarctic. In fact, the Arctic is not even the coldest place in the Northern Hemisphere. (The icy, subarctic interior of Siberia, in eastern Russia, holds that record.)
Icebreakers
Travel in the Arctic is still dependent on icebreakers. An icebreaker is a very powerful ship capable of breaking up kilometers of sea ice, sometimes several meters thick. Icebreakers are most often powered by nuclear fuel, but can also run on gas and steam. They can be uncomfortable to travel in, as their shape allows them to roll back and forth more easily than other heavy ships. Russia manufactures the most powerful icebreakers.
Oil in ANWR
The Arctic National Wildlife Refuge (ANWR), situated on Alaska's northeastern coast, is the largest protected wilderness in the United States. Extractive activities are allowed in the refuge, as long as the U.S. Congress approves. Some geologists estimate that there may be between 5 billion and 16 billion barrels of oil and natural gas beneath the coastal plain of the refuge. People have debated since the 1970s about whether to develop this pristine area, but Congress has not given any approval to drill or mine there.