"The weave pattern can be opened or tightened as a function of temperature," Hinestroza says, and the fibers can be modified so their physical properties change with temperature.
You could also have a shirt or fabric that can change its look. 
More importantly, nanotechnology could be used to protect our bodies from harmful substances. 
Hinestroza explains the basic process of integrating nanotechnology into clothing. 
These nanotech yarns are multi-functional, he says.
"Ordinary fibers for textiles are functional," he says. "They provide for the comfort and classical needs of textiles so no one is walking around naked. Now if you are going to have more broadly useful textiles—in the sense of being multi-functional—you need multi-functional yarns that can be woven into a textile."
Baughman explains the capabilities of these new textiles. 
Currently, the cost of producing some of these items is too expensive to be practical on a large scale.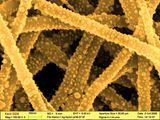 Artificial Muscles
Dr. Ray Baughman describes a technology he calls "artificial muscles" that allows clothing to change its characteristics. "It's a yarn," he says. "If you heat them up, they contract. Therefore it can lift objects or change the porosity of textiles."
antibiotic
substance that can stop or slow the growth of certain microbes, such as bacteria. Antibiotics do not stop viruses.
(singular: bacterium) single-celled organisms found in every ecosystem on Earth.
biometrics
process by which an organism's biological or physical traits (such as DNA or retinal scans) are recorded and analyzed by a mechanical system. Also called biostatistics.
tactic that organisms use to disguise their appearance, usually to blend in with their surroundings.
embed
to attach firmly to a surrounding substance.
fiber
long, thin, threadlike material produced by plants that aids digestive motion when consumed.
infection
contamination or invasion by harmful organisms, such as a virus.
insecticide
chemical substance used to kill insects.
development and study of technological function and devices on a scale of individual atoms and molecules.
type of air pollution common in manufacturing areas or areas with high traffic.
degree of hotness or coldness measured by a thermometer with a numerical scale.
textile
cloth or other woven fabric.
toxin
poisonous substance, usually one produced by a living organism.
USB
(universal serial bus) standard for connection sockets on computers and other electronic equipment.
vital sign
signal or indication of life, such as a pulse or breathing.
wardrobe
collection of clothing belonging to one person.
yarn
single, twisted strand of thread made from natural or synthetic fibers.