This story is taken from Young Explorer magazine, a nonfiction reading resource for learners in kindergarten and first grade, published by National Geographic Society. Have your learners read the story.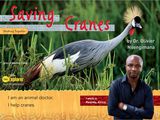 pet
animal kept as a helper or companion.
veterinarian
person who studies the health of animals.
wild
living in nature, not tame.