All civilizations have certain characteristics. These include: (1) large population centers; (2) monumental architecture and unique art styles; (3) shared communication strategies; (4) systems for administering territories; (5) a complex division of labor; and (6) the division of people into social and economic classes.
Buildings are not the only monuments that define civilizations. The distinct artistic style of Great Zimbabwe included representations of native animals carved in soapstone. The stylized stone sculptures known as "Zimbabwe Birds", for example, remain an emblem of Zimbabwe, appearing on the nation's flag, currency, and coats of arms.
Language also played a part in Roman infrastructure. Romans spread the Latin language throughout southern Europe. The so-called "Romance languages" (Spanish, French, Portuguese, Romanian, Catalan, and Italian) are called that because they all developed from the Roman language: Latin. Having a similar language made communication and leadership easier for Rome in its far-flung territories.
Roman leaders relied on a series of legal codes for administration. These codes helped structure laws between different parts of Roman territory, as well as between rich and poor, men and women, slave and free. Roman laws included restrictions on marriage, ownership of land, and access to professions such as priesthoods.
Class can also refer to the type of work people perform. There are many divisions of social class. Social class is often associated with economic class, but not strictly defined by it.
Many civilizations have flourished and then failed or fallen apart. There are many reasons for this, but many historians point to three patterns in the fall of civilizations: internal change, external pressure, and environmental collapse. The fall of civilizations is never the result of a single event or pattern.
Sometimes, civilizations seem to "disappear" entirely.
The Pueblo people never disappeared, of course: Diverse groups developed their own, competing civilizations after the Ancestral Puebloans migrated or fell apart. These groups include the Zuni and Hopi civilizations.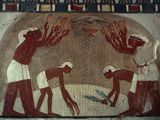 Cradle of Civilization
The southern part of the modern country of Iraq is called the "Cradle of Civilization." The worlds first cities, writing systems, and large-scale government developed there.
World Powers
The so-called "Group of 7" (G7) is an organization of the seven wealthiest democracies in the world. Seven of the eight countries are part of Western civilization: the United States, Canada, the United Kingdom, France, Germany, and Italy. The only G7 member from outside Western civilization is Japan. Japan is usually considered its own civilization.

Representatives from the G7 usually meet once a year, and discuss international issues, including the spread of disease, economic development, terrorism, and climate change.