Located 1,142 kilometers (710 miles) from the United States, Haiti occupies the western third of the island of Hispaniola in the Caribbean Sea. In 1804, following a slave revolt and prolonged struggle against the French, it became the world's first independent black republic. However, decades of coups, violence, and instability have made it the poorest country in the Western Hemisphere. In addition, its location makes it extremely vulnerable to natural disasters, such as hurricanes and earthquakes.

On Jan. 12, 2010, at about 5 p.m. local time, a magnitude 7.0 earthquake hit near the town of Léogâne, about 25 kilometers (16 miles) southwest of Haiti's capital, Port-au-Prince. Geologists said it was the region's strongest earthquake in more than 200 years. In the weeks that followed, there were more than 50 aftershocks, many over magnitude 5.0, according to the United States Geological Survey (USGS).

The earthquake's strength, location, and shallowness—it was centered just 10 kilometers (6.2 miles) below the Earth's surface—devastated the area. Buildings in Port-au-Prince and the surrounding areas were poorly constructed; most collapsed during the quake.

The earthquake and the unstable buildings contributed to massive casualties and damage. More than 200,000 people died, 300,000 were injured, and 1.5 million people were left homeless. In all, the Red Cross estimates that up to 3 million of Haiti's 9 million people were affected by the earthquake.

The city of Léogâne, near the epicenter of the quake, was reported to be the worst-affected area, with 80 to 90 percent of its buildings damaged. After the quake, Léogâne had no remaining government infrastructure—no hospitals, no police, no schools.

NGOs in Haiti

Prior to the earthquake, there were an estimated 3,000 non-governmental organizations (NGOs) working in Haiti. NGOs provide services that the government cannot or will not provide. These services include distribution of food and water, health care, and educational programs.


Many NGOs shifted their focus to search-and-rescue and trauma care in the weeks following the earthquake. Volunteer relief workers from around the world quickly arrived to help.

"This is truly an international relief effort," said Dr. Peter Tinnemann, a volunteer with Nos Petits Frères et Soeurs (NPFS, French for "Our Little Brothers and Sisters"), on Jan. 28 from Léogâne. NPFS had been in Haiti for more than 20 years.

"The general hospital is now supported by Doctors Without Borders and the Canadian Army, who have set up a field hospital with modular containers. The U.S. Marines are providing security to the United Nations and NGOs and working with a Venezuelan team to help provide food and shelter in the tent cities that have sprung up for the homeless. Medical teams from Germany, the United States, Cuba, and the Dominican Republic are working side-by-side," Tinnemann said.

Despite the presence of numerous international relief teams and their willingness to work together, providing assistance was extremely challenging. The massive damage to ports, streets, and structures, as well as the lack of leadership from the Haitian government, hampered the delivery of supplies.

Our Little Brothers and Sisters

Due to its long experience working in Haiti, the scale of its operations, and its excellent reputation, NPFS was in a unique position to respond quickly to the disaster. The organization also has a sister organization in the Dominican Republic, which occupies the eastern two-thirds of Hispaniola.


NPFS was founded in 1987 as a home for orphaned and abandoned children by two American priests, Father William B. Wasson and Father Richard Frechette. It was the third home of Nuestros Pequenos Hermanos (NPH). NPH, Spanish for "Our Little Brothers and Sisters," is an organization founded by Wasson in Mexico in 1954. NPH currently has orphan homes and outreach programs in nine Latin American and Caribbean countries.

In 1989, Frechette established an NPFS medical center. This would later become St. Damien Hospital, Haiti's only free-of-charge pediatric facility. St. Damien Hospital is on the outskirts of Port-au-Prince.

During the earthquake, NPFS suffered severe damage to its facilities, including the collapse of the Father Wasson Center in Petionville. The original hospital site before St. Damien opened in 2006, the Father Wasson Center housed NPFS's administrative offices, as well as volunteers, a school, and a physical therapy center for children with disabilities.

NPFS also lost staff, volunteers, and family members. "We estimate that we are missing about 20 percent of our Haitian staff," Frechette said. The priest, who earned a medical degree in 1998, oversees the home, hospital, and numerous outreach programs.

Despite its losses, NPFS immediately began helping victims of the earthquake. In the early weeks, when NGOs and relief workers had difficulty obtaining supplies, NPH Dominican Republic made daily deliveries to NPFS. These supplies included medical equipment, tents, bottled water, and fresh food grown on the NPH farm.


St. Damien Hospital served as a hub for trauma care. Health-care workers there provided treatment of injuries and even maternity care—more than 50 babies were born at the hospital in the first three months after the earthquake. It also became one of the premier orthopedic medical centers in Haiti.

In just the first three weeks after the earthquake, more than 10,000 adults and children were treated, and thousands of surgeries were performed at St. Damien Hospital. NPFS also provided medical assistance in various communities, and distributed water and food.

Post-Quake Relief

NPFS is working to provide long-term relief. St. Helene, the NPFS orphanage in Kenscoff, Haiti, is home to more than 350 children. These children are not placed for adoption, but are supported until they are prepared to live independently or move off-site to continue their education. An additional 280 children attend school at St. Helene.
A temporary home was opened in Tabarre for vulnerable and displaced children. Currently, 118 children are living there, and its capacity will eventually be about 350. NPFS also established a facility for children 6 years and under who needed special medical attention. Its capacity is 40 children. In addition, a new program called Father Wasson's Angels of Light includes a primary on-site school with room for 750 children and another eight schools offsite for more than 1,100 children. It offers education for those displaced by the earthquake and funds a meal program for 2,500 students.


"By serving vulnerable and displaced children, we have come to know them and their backgrounds and are able to identify those whom we can help in the long-term," said Reinhart Koehler, Director of Family Services for NPH International.

A small loan program to rebuild or repair homes has also been initiated. Other programs are also being evaluated. "Needs have changed and will change in the future as the situation in Haiti hopefully changes for the better," Koehler said.

NPFS and NPH receive financial and volunteer support from organizations and individuals around the world. Millions of dollars in cash, supplies, and services have been donated for earthquake relief efforts, which will continue for a long time.

"The problems are overwhelming," Fr. Frechette said. "In relation to health, education, family, life, employment, and social stability, the earthquake will have severe ramifications well into the future. But we have hope."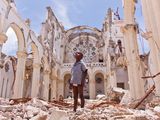 Friends of the Orphans
In the United States, NPFS and NPH are supported by Friends of the Orphans. Volunteers are needed at regional offices and to raise awareness, as well as to work at the homes.
administer
to oversee, manage, or be in charge of.
black
person of African descent.
casualty
person who has been injured or killed in a specific incident.
coup
sudden overthrow of a government, usually by a small group of people within the government or military. Also called a coup d'etat.
Doctors Without Borders
(Medecins Sans Frontieres, or MSF) nonprofit organization that provides medical care and facilities in war-torn and developing countries.
earthquake
the sudden shaking of Earth's crust caused by the release of energy along fault lines or from volcanic activity.
enslaved person
person who is owned by another person or group of people.
epicenter
point on the Earth's surface directly above the true center of an earthquake.
farm
land cultivated for crops, livestock, or both.
geologist
person who studies the physical formations of the Earth.
government
system or order of a nation, state, or other political unit.
hamper
to hold back or prevent progress.
Hispaniola
large island in the Caribbean Sea, home to the Dominican Republic and Haiti.
hurricane
tropical storm with wind speeds of at least 119 kilometers (74 miles) per hour. Hurricanes are the same thing as typhoons, but usually located in the Atlantic Ocean region.
infrastructure
structures and facilities necessary for the functioning of a society, such as roads.
body of land surrounded by water.
Latin America
South America, Central America, the Caribbean, and Mexico.
Marines
(U.S. Marine Corps) branch of the U.S. military often responsible for first expeditions to danger zones.
maternity
having to do with motherhood.
modular
made of individual, complete units or sections.
natural disaster
an event occurring naturally that has large-scale effects on the environment and people, such as a volcano, earthquake, or hurricane.
NGO
non-governmental organization.
Nuestros Pequenos Hermanos (NPH)
nonprofit organization that provides care and education for orphans and abandoned children throughout Latin America.
orthopedic
having to do with bones and muscles.
outskirts
outer area or borders of a metropolitan area.
pediatric
having to do with medical care of young children.
physical therapy
regimen for management of or recovery from physical disability.
place on a body of water where ships can tie up or dock and load and unload cargo.
prolonged
taking more time than anticipated.
Red Cross
international organization focused on humanitarian aid and disaster relief. Formally called the International Red Cross and Red Crescent Movement.
republic
system of government where power rests in citizens who vote and representatives who stand for those citizens. The United States is a republic.
residential
having to do with people's homes.
scale
relationship between distances shown on a map and actual distances.
search-and-rescue
(SAR) aid to people in immediate danger.
trauma
injury resulting from an outside force, such as a gunshot wound.
United Nations
international organization that works for peace, security and cooperation.
(United States Geological Survey) primary source for science about the Earth, its natural and living resources, natural hazards, and the environment.
Western Hemisphere
area of the Earth west of the prime meridian and east of the International Date Line.