Every student who attends Urban Assembly New York Harbor School undergoes a unique freshman initiation.

After learning about oysters during a field trip to New York City's South Street Seaport Museum, Harbor School teacher Ann Fraioli starts reading poems, including "The Ambitious Oyster" and "How to Kill an Oyster," while some of the city's oystermen open up some mollusks donated to the school.

Then, each student stands up, takes a cracked-open oyster shell in one hand, tilts the shell towards their mouth and lets the raw, salty, gooey oyster slide down their throat.

The Harbor School differs from other high schools in more than just initiation rituals. With a focus on maritime learning and activities, students are able to have experiences such as going on overnight sailing trips up the Hudson River, becoming scuba-certified, and diving on oyster reef restoration sites in New York Harbor.

Course of Study

The course that all incoming freshman must take is "Introduction to New York Harbor."

"It gets them out on the harbor on a regular basis, learning about the ecology, the history, the science, the human impact," says Fraioli, who teaches the class. "It all pertains to the New York Harbor."

By the time students graduate, they have not only completed the typical high school requirements, but also finished up semester-long internships in marine science, marine technology, or marine policy. These internships are provided by organizations including the United States Coast Guard, local dive shops, and Riverkeeper, a clean water advocate in New York.
Harbor School co-founder and program director Murray Fisher says one of the school's goals is for its graduates to attain Career and Technical Education (CTE) diplomas, which prepare students for careers in specific maritime fields.

"When you graduate from Harbor School, you would graduate not only with a Regent's diploma—that means you passed all the state exit exams and the academic classes—but also with a CTE diploma, which means that you met a certain level of technical skills and knowledge that was approved by industry for that area of expertise, whether it's aquaculture or vessel operations," Fisher says.


Going Back to the Water

Fisher came up with the idea for the Harbor School after working with the environmental organizations Hudson Riverkeeper and Waterkeeper Alliance. Part of the reason Fisher wanted to create a school with a maritime focus was to provide students with access to the water.

"It was just hard [for New Yorkers] to get down to the water and enjoy it," he says. "New York is a water city like so many others, but it has just turned its back on the water."

In 2002, Fisher contacted Richard Kahan of the Urban Assembly with his idea about designing a high school that would have a maritime focus. The Urban Assembly is an organization that creates and manages a group of innovative New York public schools, including the Bronx School for Law, Government and Justice and the Academy for Careers in Sports.

A year after Fisher approached Kahan, New York Harbor School was scheduled to open. "We had to find teachers," Fisher says. "We had to write curriculum. We had to develop partners. We had to raise money. We had to create budgets. We had to find furniture."

Despite the struggles, Fisher fondly remembers the year the Harbor School opened. "It felt like we were a family," he says. "There were eight teachers and 125 students. Everyone knew everyone well."
Since then, the school has expanded to almost 400 students and 36 teachers. Local students interested in attending the Harbor School are chosen through a lottery system.

The school boasts an above-average rating and a high on-time graduation rate. Fisher credits the Harbor School's success to outstanding teachers and confident, motivated students.

"The main thing is that we have a really dedicated group of teachers who are super-motivated because of the theme," he says. "So they are excellent teachers. At the same time, we give the students more opportunity to showcase their unique skills. So if I'm a student who is not good in history but I do really well in scuba diving, then I've gained confidence in myself as a student, and therefore I'm more likely to stay in school."

New Campus

In the fall of 2010, the Harbor School moved from landlocked Bushwick, Brooklyn, to Governors Island, a 172-acre island in New York Harbor.

Now in a location that is fitting for its mission, the Harbor School is hoping to open a 9,000-square-foot, two-story Marine and Science Technology (MAST) center on the island by September 2011. Fisher says the facility will include docks, boat storage, and an open system aquaculture laboratory.

With a new campus, Fisher has big goals for the students who attend the Harbor School. "The vision for the school is still far off from what the school is, but what I hope is that New York City would be graduating from this school 100 students a year who are absolute experts in everything related to New York Harbor," he says. "Then using that expert knowledge and experience and skills, they choose a career which will help us better manage our marine resources over the next 50 years."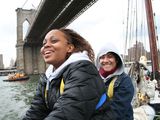 Harboring Principles
The New York Harbor School lists four main educational principles:
The marine world provides an ideal forum for an education based on excellence, discipline, and interdependence.
Hands-on, inquiry-based learning in a natural environment stimulates curiosity, critical thinking, and vision, all of which lead to improved academic performance.
All students have the desire and intellect to reach their highest academic standards when given the right opportunities and clear expectations.
Small schools allow students a larger stake in decision-making, as well as increased personal attention, alternative assessments, and easier access to the staff.
academic
person or thing having to do with school, particularly college or university education.
aquaculture
the art and science of cultivating marine or freshwater life for food and industry.
budget
money, goods, and services set aside for a specific purpose.
coast guard
branch of a nation's armed forces that is responsible for coastal defense and protection of life and property at sea.
dive shop
facility that sells scuba and snorkeling equipment, as well as provides classes and information on diving conditions.
dock
to bring and secure a ship or boat to a space or facility.
branch of biology that studies the relationship between living organisms and their environment.
environment
conditions that surround and influence an organism or community.
part of a body of water deep enough for ships to dock.
innovative
new, advanced, or original.
intern
person who works or volunteers at a business in order to learn and gain experience.
landlocked
having no access to an ocean or sea.
maritime
having to do with the ocean.
mollusk
large phylum of invertebrate animal, all possessing a mantle with a significant cavity used for breathing and excretion, a radula (except for bivalves), and the structure of the nervous system.
oyster
type of marine animal (mollusk).
oyster reef
aquatic habitat made of layers of oysters.
poem
written or spoken composition notable for its beauty or rhythm.
resource
available supply of materials, goods, or services. Resources can be natural or human.
restoration
repair of damage to an ecosystem so that it can function as a normal self-regulating system.
ritual
series of customs or procedures for a ceremony, often religious.
scuba
(self-contained underwater breathing apparatus) portable device for breathing underwater.
Articles & Profiles
Websites