This story is taken from Explorer magazine, a nonfiction reading resource for learners in second to fifth grade, published by National Geographic Society. Have learners read the story and then test their comprehension with the reading and/or content activities included in the story.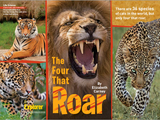 a modification of an organism or its parts that makes it more fit for existence. An adaptation is passed from generation to generation.
apex predator
species at the top of the food chain, with no predators of its own. Also called an alpha predator or top predator.
climate
all weather conditions for a given location over a period of time.
conservationist
person who works to preserve natural habitats.
function
to work or work correctly.
environment where an organism lives throughout the year or for shorter periods of time.
poach
to hunt, trap, or fish illegally.
wildlife reserve
area set aside and protected by the government or other organization to maintain wildlife habitat. Also called a nature preserve.