Dr. Aren Maeir, professor at Bar-llan University in Ramat Gan, Israel, and director of the Tell es-Safi/Gath Archaeological Project
"To a large extent, I would say that the incorporation of technology in our research has very much transformed the way we do archaeological research. Compared to what we did 15 to 20 years ago, it is almost as if we are dealing with the difference between 19th-century medicine and 21st-century medicine. There's such a whole range of analytic tools and research tools that we have jumped ahead substantially."
The site had been excavated as early as 1899, but little archaeological research had been done until Maeir and his team started a long-term project at Tell es-Safi in 1996.
"Very often, simply going up in an airplane and taking photographs of the region, you can see things that you can't see when you are walking on the ground," Maeir says.
Maeir says the X-ray florescent spectrometer is a handheld device that looks a bit like a supermarket pricing gun.
"You aim it at a material that you want to identify and it gives you an identification of many types of materials to the atomic level," he says.
The Fourier transform IR (infrared) spectrometer is the size of a small inkjet printer. It is set up on a table near the excavation area.
The IR spectrometer gives results in around 10 minutes.
"A very, very important part of archaeology is measuring location," he says. "You want to map out the site. You want to map out where you are excavating. You want to map out the finds. You have excavated the various architectural features. You have excavated where you found certain objects. These things were usually done in the past with traditional objects and hand-drawn maps. Nowadays we have a whole range of digital map aids for measuring."
Maeir believes the past belongs to all citizens of the world, so he strives to share new information about his finds as often as possible.
Maeir says technology also allows him to share his findings with other archaeologists more easily.
"Nowadays we have PDFs of just about everything we have published so that you can put them up on various sites and your colleagues can get to it," Maeir says. "It enables archaeological data interpretation to reach a wider audience."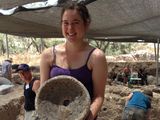 aerial imagery
photographs, maps, and other visual information based on visual data taken from high in the atmosphere, usually in a plane.
Arabic
language that is most common in north Africa and the Middle East.
archaeological site
place where evidence of the past is being studied by scientists.
archaeologist
person who studies artifacts and lifestyles of ancient cultures.
biblical
having to do with the Bible, the holy book of Christianity.
blog
(web log) website that contains online personal reflections, comments, and often hyperlinks provided by the writer.
calcite
soft mineral, one of the most common on Earth. Also called calcium carbonate.
data
(singular: datum) information collected during a scientific study.
digital
having to do with numbers (or digits), often in a format used by computers.
excavation
area that has been dug up or exposed for study.
feature
non-portable archaeological remains, such as pyramids or post-holes.
any system for capturing, storing, checking, and displaying data related to positions on the Earth's surface.
Goliath
giant warrior killed by young David in an early Bible story.
historian
person who studies events and ideas of the past.
interpret
to explain or understand the meaning of something.
symbolic representation of selected characteristics of a place, usually drawn on a flat surface.
Philistine
people and culture native to ancient Canaan (the Levant) which thrived during the Iron Age.
research
scientific observations and investigation into a subject, usually following the scientific method: observation, hypothesis, prediction, experimentation, analysis, and conclusion.
satellite communication
process of exchanging information using a device that orbits Earth.
solid material transported and deposited by water, ice, and wind.
siege
organized attack on a fortified or protected structure.
silica
chemical compound (SiO2) that makes up most of the Earth's rocks.
spectrometer
device for measuring the frequency, wavelength, and refraction of radiation.
survey
a study or analysis of characteristics of an area or a population.
technology
the science of using tools and complex machines to make human life easier or more profitable.
tel
raised mound indicating the site of a series of human occupations, where one settlement builds on top of a previous settlement. Also called a tell.
topography
study of the shape of the surface features of an area.
total station
instrument used in land surveying that combines electronic and optical equipment to evaluate an area's location, features, and topography.
trench
long, deep depression, either natural or man-made.
small human settlement usually found in a rural setting.
warrior
person experienced or skilled in battle, conflict, or war.