For this project, people wiped cotton swabs in or on their belly buttons. The first group of 66 samples was collected from visitors to the museum and other participants.
Each participant's belly button hosted about 67 different species. Yet not one was common to every person, and only eight were found on at least 70 percent of participants.
The team considered factors including age, sex, and whether the person had an innie or an outie. Despite this research, the scientists can't quite explain why some belly buttons had a particular species, while others did not.
In November 2012, the team published their first findings in a paper called "A Jungle in There: Bacteria in Belly Buttons are Highly Diverse, But Predictable." They will soon have 600 samples from people all over North America.
Menninger's team is passionate about engaging people of all ages in the whole process of science, from collecting and analyzing data, to making observations, producing new hypotheses, and determining what to study next.
So, will you be a citizen scientist? Join up here!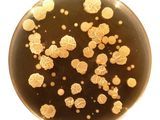 School of Ants
School of Ants is a citizen science project that looks at the ants that live in urban areas, especially around homes and schools. From the School of Ants website: "Learn how to create your own sampling kit, sample your backyard or schoolyard, and get our collection back to us so that we can ID the ants and add your species list to the big
School of Ants map
. Together we'll map ant diversity and species ranges across North America!"
Click here to get started
!
Interested in ants? Holly Menninger, NC State's director of public science, has just the book for you! "We've just released a free eBook called
Dr. Eleanor's Book of Common Ants
that will surprise and delight young readers with stories (and outstanding photos) of some of the most common ants in North America."
(singular: bacterium) single-celled organisms found in every ecosystem on Earth.
all the different kinds of living organisms within a given area.
science project or program where volunteers who are not scientists conduct surveys, take measurements, or record observations.
data
(singular: datum) information collected during a scientific study.
depression
indentation or dip in the landscape.
diverse
varied or having many different types.
community and interactions of living and nonliving things in an area.
entomologist
person who studies insects and their interaction with the environment.
forest
ecosystem filled with trees and underbrush.
function
to work or work correctly.
fur
thick hair covering the skin of an animal.
environment where an organism lives throughout the year or for shorter periods of time.
hypothesis
statement or suggestion that explains certain questions about certain facts. A hypothesis is tested to determine if it is accurate.
indentation
dent, cut, or depression.
initiative
first step or move in a plan.
intimate
very personal or private.
mammal
animal with hair that gives birth to live offspring. Female mammals produce milk to feed their offspring.
microbe
tiny organism, usually a bacterium.
navel
mark or indentation on a mammal's abdomen that indicates where the umbilical cord linking the fetus and the mother was attached. Also called an umbilicus or belly button.
obscure
to darken or partially block.
pathogen
organism that causes a disease, such as a virus.
protrusion
something that swells or sticks out.
area of tall, mostly evergreen trees and a high amount of rainfall.
species
group of similar organisms that can reproduce with each other.
umbilical cord
flexible cord connecting the fetus of a mammal with the mother's placenta, providing nourishment to the fetus. Also called a funis.