The geographic perspective is an important way to understand every community—no matter what size, or how long or briefly one has been a part of it.

Here are some books recommended by National Geographic staff on community, adventure, and geography.

Children (ages 4-8)

The Snowy Day, by Ezra Jack Keats. "Beautiful illustrations perfectly capture the joy of a little boy exploring his snow-covered neighborhood. A Caldecott Award-winner, this book has been a favorite of beginning readers and their parents for 50 years."
—Nancy Wynne, educator reviewer

The Magic School Bus series, by Joanna Cole. "This book is full of adventure, exploration, and fun! Travel along with Ms. Frizzle's elementary class on magical field trips to ordinarily impossible locations: the inside of the Earth, outer space, in and around the human body, the bottom of the sea, and so much more!"
—Samantha Zuhlke, program specialist, Ocean Education

Cloudy with a Chance of Meatballs, by Judi Barrett (author) and Ron Barrett (illustrator). "This story shows how a community is transformed by its geography (weather specifically), even if that weather involves food rather instead of rain. An exciting read that leaves you well satisfied."
—Winn Brewer, media contractor

Children (ages 9-12)

The Snarkout Boys and the Avocado of Death, by Daniel Pinkwater. "Walter and his friends Winston Bongo and Rat are world-class champion snarkers. Snarking is the fine art of waking up in the middle of the night to go exploring Baconburg (which looks a lot like Chicago). There they go to the Snark Theater, give speeches in Blueberry Park, and eat red hot dogs with green chemical relish. This book is for people who like thinking weird thoughts and who don't even bother with trying to be normal. You can even listen to the author read the book (for free!) by going to http://www.pinkwater.com/podcast/audioarchive.php."
—Mary Schons, reporter

The Chronicles of Narnia, by C.S. Lewis. "This series is all about exploration into new worlds that are just waiting to be discovered. Easy to read at any age, and great to read as a family, pick up these books to follow the intrepid Pevensie kids as they go on all sorts of exciting adventures."
—Justine Kendall, program coordinator, Geography Awareness Week

The Boxcar Children, by Gertrude Chandler Warner. "This was one of my favorite series growing up. There's something about living in a boxcar that captures the imagination. The resourceful family of four siblings travels to locations near and far to solve mysteries, using their distinct skills and personalities to work as a team. After reading these books I would always be inspired to go out exploring!"
—Sarah Jane Caban, project manager, Social Media & Promotion

The Swiss Family Robinson, by Johann David Wyss. "I really enjoyed how this book allows you to experience all the adventures the family goes through, the different places they explore, and the exotic geographies they encounter after being shipwrecked onto an East Indies island when setting sail for Australia."
—Chari Adames-Smith, intern, Geography Awareness Week

Young Adult

DC: The New Frontier, by Darwyn Cooke, with Dave Stewart. "First: Cooke is the best artist working in comics today. Second: This collection is a soaring, smart story about leadership, community, the America we all think we know, what it means to be patriotic, and how awesome Wonder Woman is."
—Caryl-Sue, writer/editor, Reference and News

The Mists of Avalon, by Marion Zimmer Bradley. "This enchanting fiction adventure uses herstory to trace the evolution of Christianity and the destruction of Druidism. Natural settings and human connections to the natural world are illustrated in this wonderfully written story that shows the lives of King Arthur, Guinevere and Lancelot from a female perspective."
—Julie Brown, program specialist, Ocean Education

Students

Planetwalker: 22 Years of Walking. 17 Years of Silence, by John Francis. "John's stories about walking all over this country are inspiring and at times a bit hair-raising. One message from the book (of many) is that there is adventure and exploration to be had with just your own two feet."
—Anna Switzer, program manager, Outdoor and Experiential Education

A Sand County Almanac, by Aldo Leopold. "It has been years since reading this book, I believe I was fresh out of college when I did. But this is the title that came to mind when thinking of a book for 'The Adventure in Your Community' theme. This book taught me to look at subtle changes right in my own backyard. What wildflowers appear first in spring? Where exactly is the trail of ants going? Wonderful questions that not only entice novice naturalists, but also ones that university biologists follow."
—Michelle Johnson, earth science teacher

Reading the Forested Landscape: A Natural History of New England, by Tom Wessels. "This book has beautiful illustrations of different New England landscapes—many of which are found outside of New England as well—and the text guides the reader through the illustrations, solving mysteries along the way. As a reader, you get to figure out why there are stone walls in the middle of the forest, what happened to the American chestnut, and why there are maples in one area and beech trees in another (along with many other puzzles!) You get to explore without ever leaving the book!"
—Mary Ford, manager, Ocean Education

Roughing It, by Mark Twain. "This semi-autobiographical book is an account of the author's travels around the West in the mid 1800s. Best of all is the section where Twain casts a humorous glance at the wild and weird ways of Virginia City, Nevada, a mining town that he lived in while working as a journalist for the local paper."
—Stuart Thornton, reporter

City of Thieves, by David Benioff. "Follow two young men as they make their way through war-time Russia in search of eggs for a wedding cake. These two unlikely friends are forced to pair together, their lives at stake, in order to find a dozen eggs—scarce during wartime—for the commander's daughter's wedding. As the two men see how war has changed their friends, their culture, their country, they struggle between surviving the cold and hunger and what it means to be human."
—Elena Takaki, program manager, Chesapeake Bay FieldScope

The Adventures of Huckleberry Finn, by Mark Twain. "Huck and Jim's irrepressible quest for freedom on a raft up the Mississippi River will always be for me the ultimate American adventure. As the friends explore the river that runs through America's heart, they take us on a journey of our own hearts. Through laugh-out-loud satire, hypocrisy is unmasked, and we are led to question the values that define our society and ourselves."
—Kara West, copy editor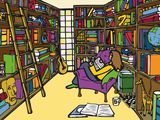 Join a Book Club
Book clubs are a great way to discover more about the books you love, the books you loathe, and if the book was really better than the movie. Some book clubs are focused on a particular type of book: science fiction, graphic novels, classics. Other book clubs are free-for-alls. Book clubs also offer insight into your own community and the people who live thereyou will not believe the characters in your own neighborhood.

Public libraries are usually an excellent source of information on local book clubs, and often host book club meetings themselves. Most book clubs are free, welcome new members, and meet about once a month.
Find Your Local Library
Public libraries are one of civilizations greatest resources. Find your local library. Talk to the librarians! They know media, and they know how to find what you're looking for.
community
group of organisms or a social group interacting in a specific region under similar environmental conditions.
environment
conditions that surround and influence an organism or community.
exploration
study and investigation of unknown places, concepts, or issues.
study of places and the relationships between people and their environments.