The Leuser Ecosystem in Northern Sumatra, Indonesia not only plays a role in providing clean air for millions of people, it is is the last place on earth where Sumatran rhino, elephant, tiger, and orangutan coexist in the wild. 50 years ago, this 2.6 million-hectare tract of forest was home to more than a thousand Sumatran rhinos. Today, due to poaching, logging, and human activity, there are fewer than 80 Sumatran rhinos left on the planet.
Rudi Putra has spent the last two decades working to protect the vast Leuser Ecosystem, one of just two remaining habitats where these critically endangered rhinos continue to breed. "I remember reading an article in my undergraduate biology days about the magnificence and global significance of the Leuser Ecosystem and realizing this important landscape is in my home," he says. "One of the animals that really inspired me from the beginning was the Sumatran rhino."
"I love Sumatran rhinos because they are very unique, needing the safest place in the world," Putra says. "They choose to live far from human activities, and even from other animals. They don't like noise. They are shy yet they are so strong. They need very high privacy but this does not mean they are selfish."
Despite steep population declines in the last 50 years, Putra believes the Sumatran rhino's situation is not hopeless. "20 years ago when I started working on protecting the Sumatran rhino, signs of rhino were extremely difficult to find but now those signs have increased by 200 percent by just consistently guarding them," he says. "Since the 1990s we have maintained a zero-poaching rate for Sumatran rhinos and this we intend to maintain."
Ensuring the species' survival, however, will require bold, proactive steps as well as efforts to protect rhinos from poaching, Putra says. With the help of National Geographic, he is planning an ambitious breeding program that will move animals from areas of the Leuser where they are not reproducing naturally to breeding centers.
"I am very optimistic we can still save Sumatran Rhinos and thousands of other endangered species with the right interventions and with enough unity and energy," Putra writes. "I feel that this hope is not just a fantasy—in 50 years when this question is asked again I believe it is possible that the Sumatran rhino is no longer critically endangered."
Sumatran rhino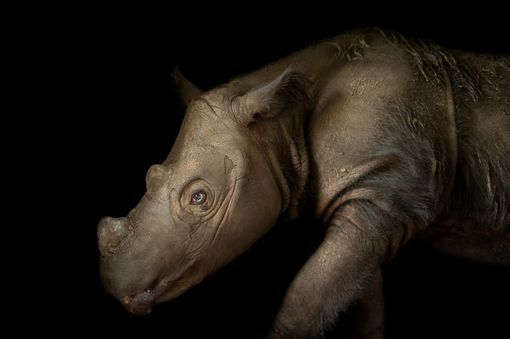 Photograph by Joel Sartore

Poaching and habitat loss are two of the biggest threats to Sumatran rhinos.
Learn more
EXPLORER IMPACT
Rudi leads the largest ecosystem protection team in Indonesia managed by a local NGO.
Read Rudi's bio
Support This Species
You can make a difference in our world and help conserve and protect at-risk animals.