The Society's strategic planning process was an extensive, organization-wide effort that meaningfully engaged more than 400 members of our global community and thoughtfully synthesized their feedback. The multiphase process spanned 10 months, from August 2020 to May 2021. The dynamic process was grounded in our guiding principles, including collaboration; ingenuity; transparency; a focus on the long term; and diversity, equity, and inclusion (DEI). In addition to crystallizing our vision for the future, the process established the Society's three strategic throughlines and four strategic priorities.
Our planning process included three strategic throughlines that were thoughtfully considered and will be woven throughout all of work: the Society's commitment to diversity, equity, and inclusion; our reimagined Base Camp; and alignment and collaboration with Disney and National Geographic Partners (NGP). A cross-functional team of staff and leadership developed these throughlines with guidance from trustees.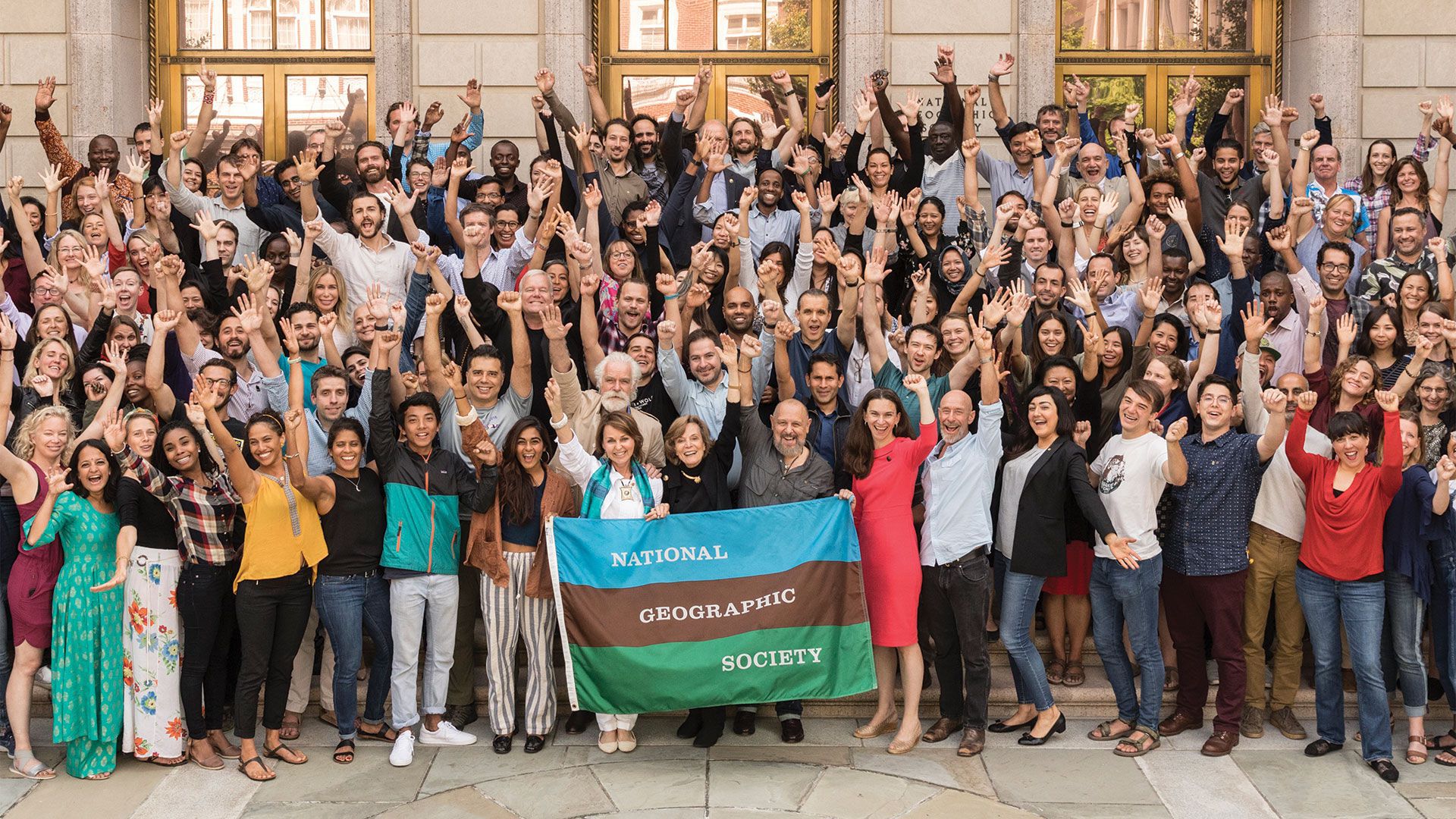 National Geographic Explorers pose for a photo at the 2019 Explorers Festival in Washington, D.C. (Photo by Mark Thiessen)
DIVERSITY, EQUITY, AND INCLUSION
We can only achieve our mission when people of every race, identity, experience, and ability have a role in our work. We believe it is our differences that make the National Geographic Society a better place. It is why we take great care to foster a culture where everyone feels welcome, safe, included, and respected. Throughout the strategic planning process, the DEI Throughline team assessed the Society's organizational framework and created guiding principles to ensure that our values informed every aspect of the implementation of NG Next—from our funding strategy to our mission programs, hiring practices, partners, and everything in between. An innovative, exciting, and dynamic workplace must be diverse, inclusive, equitable, and accessible.
OUR BASE CAMP
Our global headquarters encompasses three buildings totaling nearly 900,000 square feet in the heart of Washington, D.C. The Base Camp Throughline team was charged with fully exploring the potential of our reimagined physical campus, as well as our virtual spaces, to bring people together with transformative and uniquely National Geographic experiences that showcase our mission. The team built on the Society's commitments to ramp up our convening power, explore new partnerships and collaborations, and strengthen our business model through new revenue and fundraising opportunities. The Base Camp Throughline group delivered on this commitment by informing the work of other cross-divisional teams engaged in the strategic planning process.
ALIGNMENT AND COLLABORATION WITH DISNEY AND NGP
The National Geographic Society has a joint-venture partnership, NGP, with The Walt Disney Company. The Alignment and Collaboration Throughline team ensured that our partnership with Disney and our work through NGP were thoughtfully integrated into the development and execution of NG Next. In doing so, we leveraged our unique business model and amplification opportunities in support of our vision. The team delivered on this commitment by bringing the right expertise, including our NGP colleagues, to the table to evaluate the plan.
»
FOCUS: FEWER, BIGGER, BETTER
Our community resoundingly expressed that they wanted fewer programs, which meant giving up some initiatives in the interest of achieving far greater impact. In order to make our work bigger and better, we had to start with fewer. To focus our mission-driven efforts, identify and build long-lasting relationships with our Explorers, and drive impact globally, we are …
Strategically narrowing the Society's focus to five key areas that best align with our mission: Ocean, Land, Wildlife, Human History and Cultures, and Human Ingenuity.
Reducing the number of grants we award each year, but increasing our investment in each Explorer—not only through funding, but also through expanded professional development, training, leadership and speaking opportunities, community building, and connections.
Identifying and scaling a small number of signature, Explorer-led programs that can have outsize impact by combining the core elements of our vision.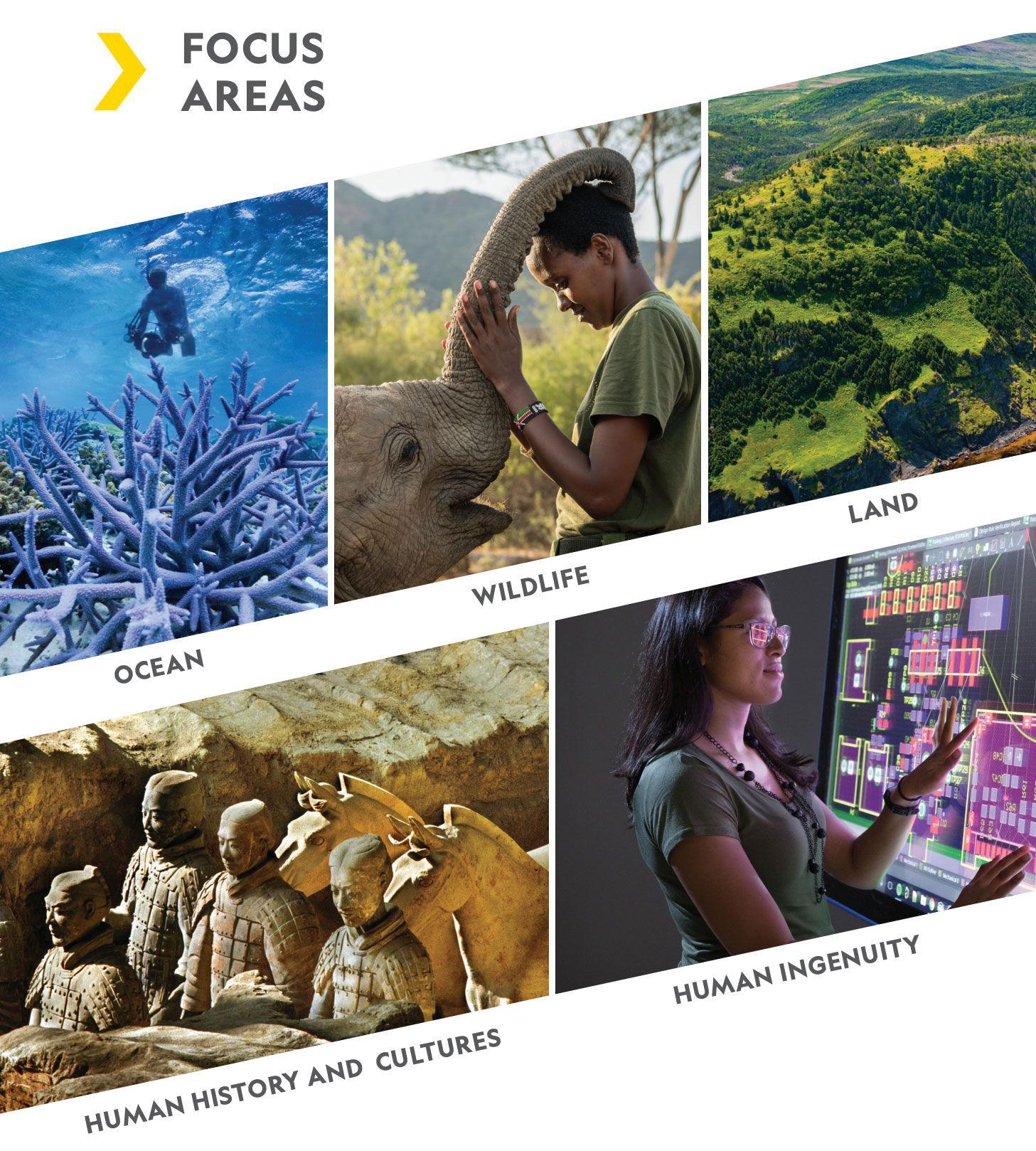 »
DRIVE IMPACT THROUGH COLLABORATION
To leverage National Geographic's world-class reputation, unlock the wealth of expertise in our ecosystem, ensure our work remains relevant and cutting edge, and expand our global impact, we are looking to …
Leverage our convening power and National Geographic "mission moments."
Strategically partner and collaborate to strengthen our organization.
Share our in-house expertise globally.
Reimagine our Base Camp to truly reflect the magic of our mission.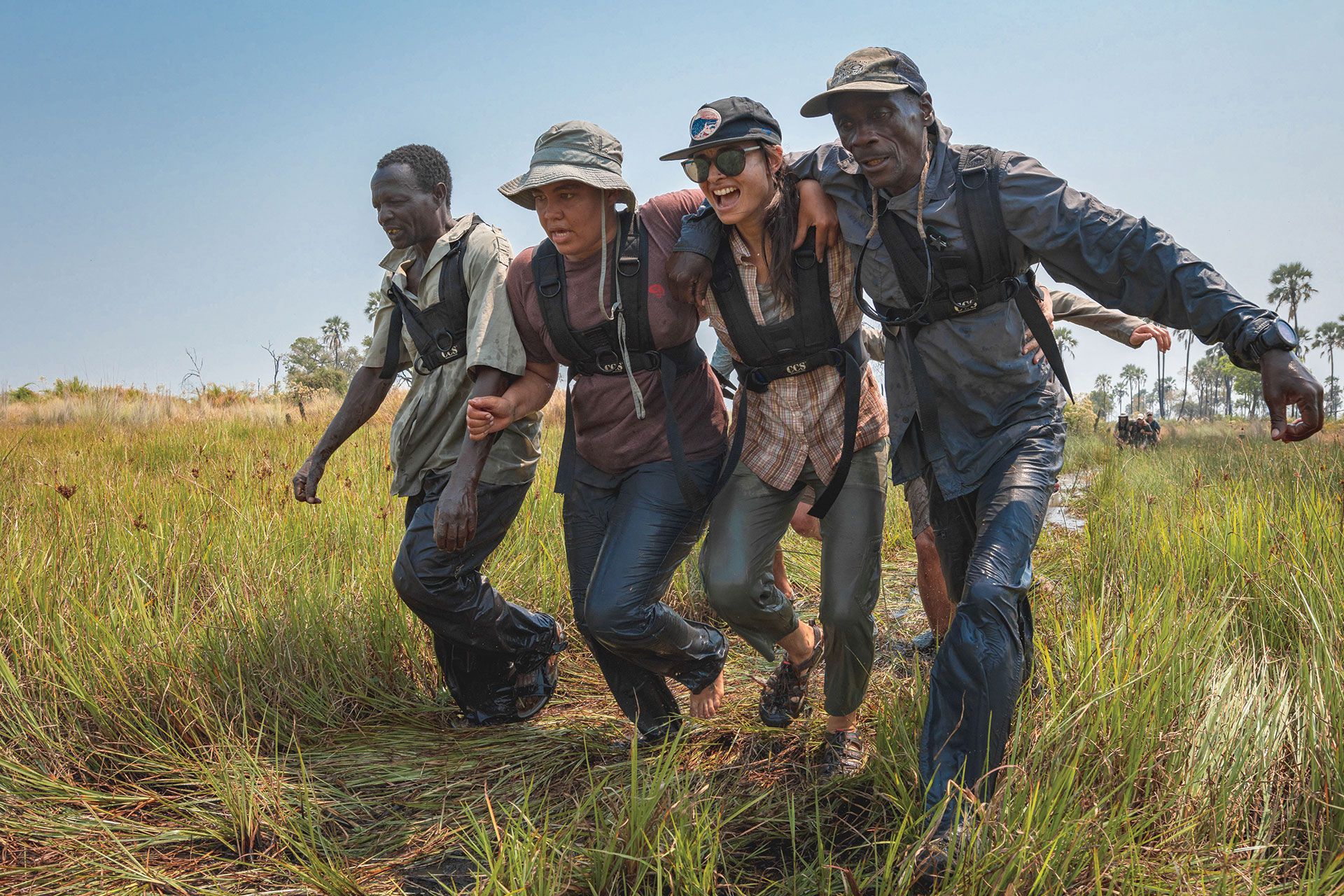 Ratama Tshwenyego, Explorer Adjany Costa, Mia Maestro, and Tumeletso "Water" Setlabosha (left to right) pull a mokoro as part of the Okavango Wilderness Project in 2018. (Photo by Kostadin Luchansky)
»
CREATE A MORE INNOVATIVE WORKPLACE
Our constituents see immense value in embracing innovation and thoughtful change to strengthen our global community, campus, and organization. To build an internal culture and workplace that's as innovative and dynamic as our mission, we must embrace the ingenuity that we're known for—at all levels of our organization. Collectively, we are focusing on how to …
Foster a culture of risk-taking.
Encourage flexibility.
Expand pathways for professional growth and empowerment.
Increase our operational transparency and cross functionality.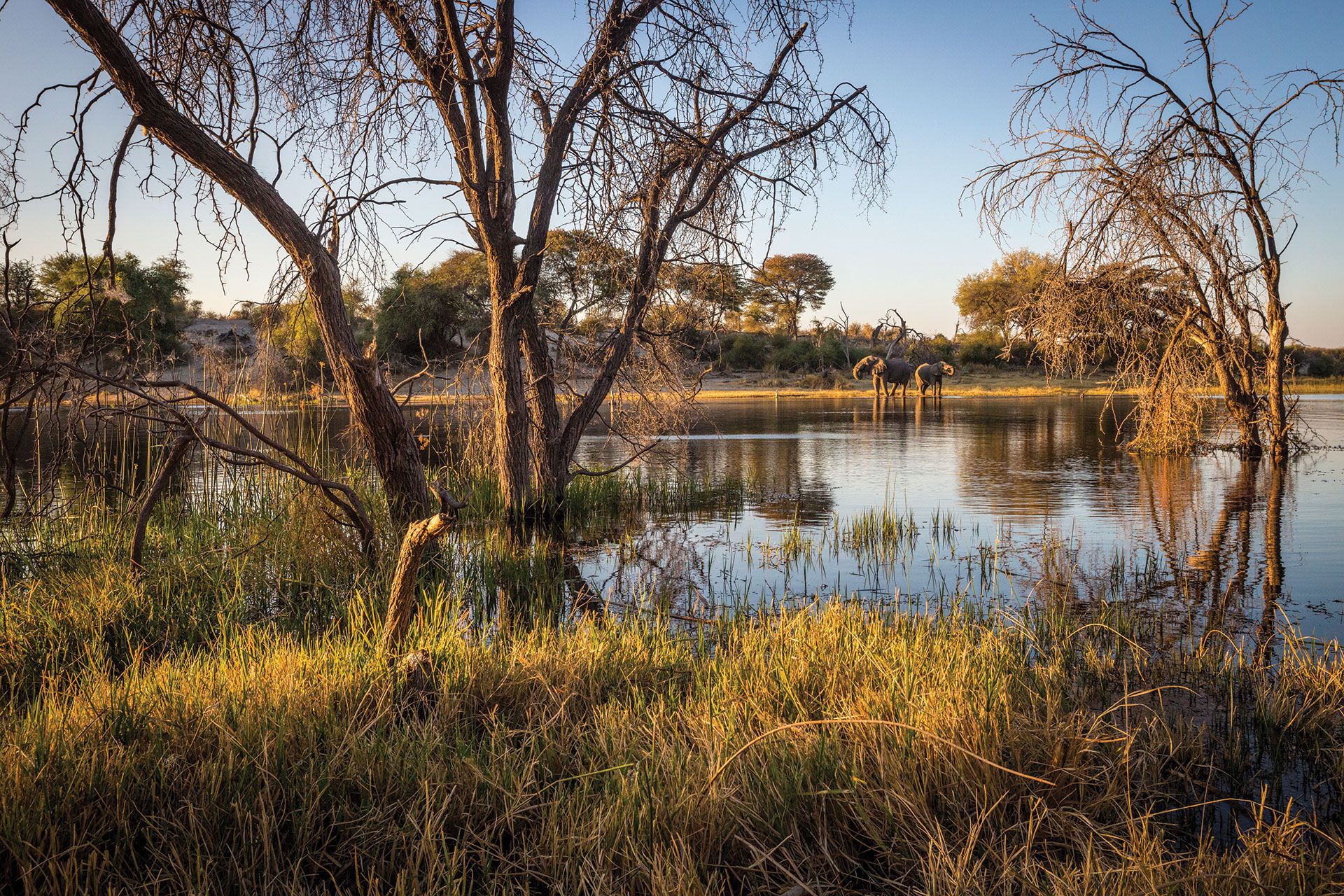 »
BUILD A SUSTAINABLE BUSINESS MODEL
Our business model changed dramatically in 2015 with our joint-venture partnership that created NGP. It is critical to think about how we want it to evolve in the next 5 to 10 years and beyond. As industry landscapes continue to evolve—in media, science, and education—what creative, innovative adjustments can we make to set ourselves up for the strongest possible financial future? We are focusing our efforts in four key areas to …
Strengthen our partnership with Disney.
Build the Society's endowment.
Create a culture of philanthropy.
Identify new revenue-producing programs that advance our mission.
Photography: Top, Everest photo by Alex Tait; Butterfly photo by Joel Sartore; Focus Areas, Ocean photo by Manu San Félix, Wildlife photo by Ami Vitale, Land photo by David Doubilet, Human History and Cultures photo by Louis Mazzatenta, Human Ingenuity photo by Mark Thiessen; Elephants in the wilderness, Photo by Mark Stone.