By the year 2050, nine billion people will inhabit our planet. That may seem daunting, considering all the challenges we already face. But inertia is not an option. Now is the time to harness our creativity as well as our humanity. To find solutions to problems that may sometimes seem intractable, we have to go further. The National Geographic Further Award recognizes a leader whose work is uniquely innovative, timely, and impactful—someone who has boldly pushed the boundaries of his or her field, and who serves as an outstanding ambassador for that breakthrough work.
2019 Award Recipient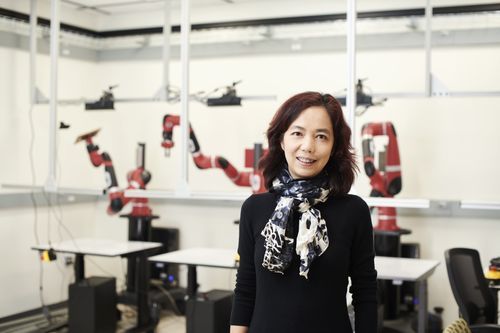 Photograph by Gordon Gurley
Fei-Fei Li
Fei-Fei Li is a co-founder and chairperson of the national nonprofit organization AI4ALL, dedicated to increasing diversity and inclusion in AI education. She is currently the co-director of the Stanford Institute for Human-Centered Artificial Intelligence, a Stanford University institute created to advance AI research, education, policy, and practice to benefit humanity by bringing together interdisciplinary scholarship across the university. Prior to this, Fei-Fei served as the director of the Stanford AI Lab from 2013 to 2018. She is also a co-director and co-PI at the Stanford Vision and Learning Lab, where she works with students and colleagues worldwide to build smart algorithms that enable computers and robots to "see and think," and conducts cognitive and neuroimaging experiments to discover how our own brains "see" and think. Fei-Fei is a fellow of the Association for Computing Machinery.