Rolex National Geographic Explorer of the Year
The Rolex National Geographic Explorer of the Year award is given each year to an individual whose actions, achievements, and spirit personify leadership in exploration and storytelling. It recognizes a National Geographic Explorer whose commitment to a perpetual planet is shining a critical light on important issues, discoveries, and challenges facing our planet, and who is inspiring the world to act on behalf of a more sustainable future.
2019 Award Recipient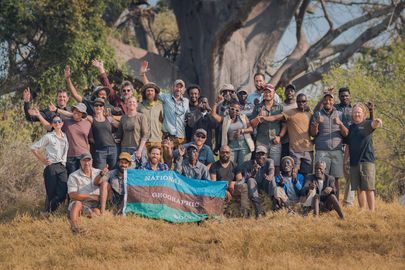 Photograph by Kostadin Luchansky
Since 2015, a team of intrepid scientists has canoed, climbed, and slogged through uncharted regions of Angola to conduct comprehensive surveys of the critical river systems that feed the Okavango Delta, one of the most biodiverse places in Africa. Led by National Geographic Fellow Steve Boyes, Angolan ichthyologist and National Geographic Explorer Adjany Costa, and expert guide Tumeletso "Water" Setlabosha, the team has discovered more than two dozen species potentially new to science, documented environmental challenges facing the region, and joined with the government of Angola to develop a plan to protect the region for generations to come.