PLANETARY LEADERSHIP AWARD
The words, decisions, and actions of our leaders play a powerful role in creating long-standing, impactful change. The National Geographic Planetary Leadership Award recognizes a world leader who has successfully established globally significant protected areas, such as national parks, wilderness areas, or marine reserves, that are fully shielded from exploitation. Only 15 percent of our land and 7 percent of our ocean are part of officially protected areas, while our planet's critical natural systems are increasingly under attack due to the accelerating impact of human activity and development. The bold actions of informed and inspired global leaders are vital to building a better future for our planet.
2020 Award Recipient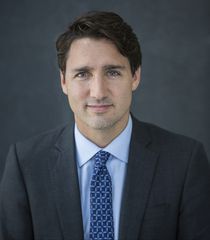 Prime Minister Justin Trudeau
The National Geographic Society is proud to present Prime Minister Justin Trudeau of Canada with the Planetary Leadership Award in recognition of his leadership in the protection of Canada's land and waters. Less than one percent of Canada's marine areas were protected in 2015, and under his leadership it is now 14 percent. Terrestrial protection has risen from 10.6 percent to almost 13 percent, with significant additional areas currently in progress as a result of his 2018 $1.3 billion "Nature Budget" — the single largest conservation investment in Canadian history. In just a few short years, Canada has shown consistent international leadership by developing a credible and resourced domestic plan, making significant new progress in protecting lands and waters, and bringing countries together at a "Nature Champions Summit" in April 2019 to raise the profile of our global biodiversity crisis and build momentum in advance of the United Nations meeting of the Conference of the Parties to the Convention on Biological Diversity in 2021, when world leaders will gather in China to set global protected areas targets for the next decade. While the award is being given to the Prime Minister for overall leadership, it is also specifically in recognition of Canada's partnership with the Qikiqtani Inuit Association and the Government of Nunavut to invest almost $200 million to establish Tallurutiup Imanga National Marine Conservation Area and Tuvaijuittuq Marine Protected Area. This transformative partnership with Indigenous peoples will help build a true conservation economy and protect over 425,000 square kilometers of ocean.