Rolex National Geographic Explorer of the Year
The Rolex National Geographic Explorer of the Year award is given each year to an individual whose actions, achievements, and spirit personify leadership in exploration and storytelling. It recognizes a National Geographic Explorer whose commitment to a perpetual planet is shining a critical light on important issues, discoveries, and challenges facing our planet, and who is inspiring the world to act on behalf of a more sustainable future.
2020 Award Recipient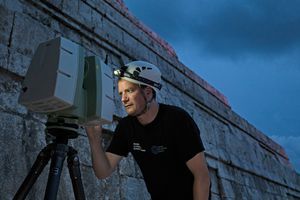 Photograph by Chris Millbern
The National Geographic Society is thrilled to recognize Corey Jaskolski as the Rolex National Geographic Explorer of the Year for his groundbreaking work creating imagery techniques that have helped redefine exploration and conservation. A National Geographic Fellow, engineer, inventor, and MIT graduate, Jaskolski designs, builds, and deploys technologies for exploration and conservation missions in some of the world's most unique and unforgiving environments. From venturing deep inside flooded caves to digitize Maya human sacrifice victims and Ice Age bear skeletons, to visiting the Democratic Republic of the Congo during an Ebola outbreak to perform important anti-poaching aerial 3D scanning and AI data collection, Jaskolski shows his steadfast commitment to exploring and protecting the planet. In addition to working with the National Geographic Society's Labs team, Jaskolski is co-founder and chief technology officer of Virtual Wonders, which shares and protects the world's special places, and Synthetaic, which uses innovative machine learning methods to tackle some of the world's toughest AI problems.