ELIZA SCIDMORE AWARD FOR OUTSTANDING SCIENCE MEDIA
If complex ideas and information aren't made relevant and accessible, important scientific facts and findings can get lost in the din of the day-to-day. National Geographic's strength lies in the unique combination of science and storytelling. The Eliza Scidmore Award recognizes a special individual whose work combines scientific rigor and immersive storytelling to advance our understanding of the environmental and conservation issues we face—with the ultimate goal of empowering societies to make the best decisions for a healthier planet. The award is named for writer and photographer Eliza Scidmore who, in 1892, was the first woman elected to the National Geographic board.
2020 Award Recipients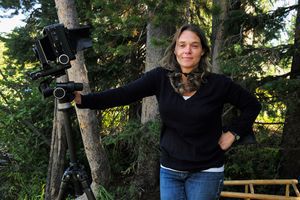 Photograph by Charlie Hamilton James
The National Geographic Society is pleased to present Erika Larsen with the Eliza Scidmore Award in recognition of her inclusive, visionary, and conservation-focused storytelling. An award-winning photographer and acclaimed multidisciplinary storyteller, Larsen is known for her intimate essays about cultures that maintain close ties with nature. She has shot multiple stories for National Geographic magazine—from following Sami reindeer herders across the Scandinavian Arctic to exploring the significance of the horse in Native American culture. Her Fulbright Fellowship work studying the North Sami language resulted in her first monograph, Sàmi: Walking With Reindeer, released in 2013. A National Geographic Fellow, Larsen is one of the featured photographers in Women of Vision: National Geographic Photographers on Assignment, for the riveting visual experiences she creates through the insightful, sensitive, and strategic use of her camera.