People have fished for thousands of years. Yet, unless big changes are made, they may not fish much longer. Many kinds of fish are in danger of disappearing.
New ways of fishing are shrinking fish populations. Fishers take billions of pounds of fish from the sea each year. Scientists say many kinds of fish will soon be wiped out. Once they are gone, they will never come back.
There is a way to stop this from happening. Fishers need to start using sustainable fishing practices.
Sustainable fishing is a way of fishing responsibly. It kills fewer fish. It also gives fish populations a chance to grow back.
The world's fish are in serious danger. Look at the bluefin tuna, for example. Many people like how it tastes. Because of that, it has been very heavily fished. Today, there are many fewer bluefin tuna than there were in 1970.
Fishers catch bluefin tuna in two harmful ways. One is purse seining. The other is longlining.
Purse seine fishing uses a large net. First, the net is used to herd fish together. Then, it closes around them. The net scoops up many fish at a time.
Longlining uses a very long fishing line that is dragged by a boat. The lines can be up to 100 kilometers (62 miles) long. They have thousands of hooks. Bits of food on the hooks attract fish.
Purse seining and longlining catch thousands of fish at a time. They also catch many fish that fishers were not trying to catch. Such fish are called bycatch. Birds and sea turtles can also be trapped by accident.
Sustainable Fishing Practices
It is possible to fish sustainably. In some parts of the world, people have been doing it for thousands of years. Today, we can learn much from these old ways of fishing.
The Tagbanua people of the Philippines are one example. They have been fishing sustainably for many years. The Tagbanuas fish for particular kinds of fish only during certain times of the year. The rest of the year, the fish are left alone. That gives their population time to grow larger again.
The Tagbanuas also set aside certain areas as protected spots. Fishing is never allowed in these areas. When they do fish, the Tagbanuas catch only a small number of fish. They only take what they need to feed themselves and their communities. They mostly use hook-and-line fishing.
If you have ever fished, you probably used a rod and reel. Rod-and-reel fishing is a newer form of hook-and-line fishing. It is much more sustainable than longlining. Only one fish is caught at a time, instead of thousands. There is also much less bycatch. If you hook something you weren't planning to catch, you can put it back in the water right away.
Another way we can all help is by no longer eating fish. Ocean scientist Sylvia Earle has stopped eating fish. She believes we need to take a break from eating seafood. Fish populations need a chance to grow larger again, she says.
"I personally have stopped eating seafood," Earle says. "I know too much. I know that every fish counts." Fish are very important to the health of our oceans, Earle says. In turn, the oceans "make the planet work."
Of course, many of us want to keep eating fish. If we do, we should choose seafood that was fished sustainably. Fish and our ocean are just too important not to care.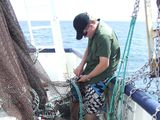 abstain
to refrain, or stop doing something entirely.
anadromous
characteristic of an animal that migrates from salt water to fresh water.
bait
object used to attract something.
bycatch
fish or any other organisms accidentally caught in fishing gear.
cast net
circular or oval fishing net, usually small enough to be thrown by one person. Also called a throw net.
caviar
delicacy made from the eggs of sturgeon or other fish.
conservationist
person who works to preserve natural habitats.
coral reef
rocky ocean features made up of millions of coral skeletons.
steady, predictable flow of fluid within a larger body of that fluid.
data
(singular: datum) information collected during a scientific study.
drift net
extremely large fishing net that can drift with currents or tides.
community and interactions of living and nonliving things in an area.
environment
conditions that surround and influence an organism or community.
Explorer-in-Residence
pre-eminent explorers and scientists collaborating with the National Geographic Society to make groundbreaking discoveries that generate critical scientific information, conservation-related initiatives and compelling stories.
fisheries management
practice of maintaining fish stocks and the economic activity of fishing.
fishery
industry or occupation of harvesting fish, either in the wild or through aquaculture.
fish stock
amount of fish available to be harvested in a specific area at a specific time.
material, usually of plant or animal origin, that living organisms use to obtain nutrients.
government
system or order of a nation, state, or other political unit.
harpoon
long, sharp tool mostly used for hunting whales and large ocean fish.
high seas
part of the ocean not belonging to any country or nation. Also called the open sea.
hook-and-line
traditional method of catching fish, with baited hooks at the end of lines of wire.
import
to bring in a good or service from another area for trade.
indigenous culture
languages, belief systems, social structures, institutions, and material goods of people who are native to a specific geographic area.
longlining
fishing practice using a long, main line with many branch lines, all with baited hooks.
municipality
community unit, such as a city or town.
overfish
to harvest aquatic life to the point where species become rare in the area.
pelagic
having to do with the open ocean.
Polynesia
island group in the Pacific Ocean between New Zealand, Hawaii, and Easter Island.
prey
animal that is hunted and eaten by other animals.
purse seining
fishing technique that relies on a large net to catch entire schools of fish.
quota
percentage or part of a total amount.
raw material
matter that needs to be processed into a product to use or sell.
regulate
to determine and administer a set of rules for an activity.
roe
mass of eggs in the ovaries of a female fish.
seafood
fish and shellfish consumed by humans.
sushi
bite-sized rolls or balls of sticky rice topped with seafood or vegetables.
collection of commercial or subsistence fishing practices that maintain the population of fish and fish stocks.
technology
the science of using tools and complex machines to make human life easier or more profitable.
rise and fall of the ocean's waters, caused by the gravitational pull of the moon and sun.