The members of the United Nations (UN) adopted the Sustainable Development Goals (SDGs) in 2015. These 17 goals are designed to unite nations in the common cause of ensuring the general welfare of all humans by the year 2030. These goals include a focus on ending poverty, tackling climate change, and maintaining high standards of resources.
SDG 6 focuses on ensuring a clean and stable water supply and effective water sanitation for all people by the year 2030. The goal is a reaction to the fact that many people throughout the world lack these basic services. About 40 percent of the world's population is affected by a lack of water. As global temperatures rise, that total is expected to increase. Already, some of the poorest countries in the world are affected by drought, resulting in famine and malnutrition. Throughout the world, about 1.7 billion people live in a watershed where water is used faster than the watershed can be replenished. According to some estimates, if such trends continue, one in four people, or more, might experience water shortages on a regular basis by the year 2050.
Compounding the problem of water scarcity is the lack of reliable sanitation throughout the world. More than two billion people worldwide lack basic sanitation services, such as simple latrines or toilets. More than 890 million of those people live in regions where "open defecation" occurs. This means that human waste is left in the open. Adding to the issue is the fact that 80 percent of wastewater throughout the planet is emptied into the ocean or rivers without proper waste removal.
Alarmed by these problems, the UN established SDG 6 in an effort to make adequate sanitation and water services available to all people by the year 2030. As many as 800 million people, or more, would require the construction of facilities to provide consistent clean water and waste removal. To succeed in their vision, the UN developed a series of targets. These targets include restoring and protecting river ecosystems throughout the world, eliminating sources of water pollution, and increasing international cooperation to bring services throughout the world.
In an effort to reach the targets outlined by SDG 6, some water companies have installed smart meters in places where water scarcity is a concern. These meters track and charge for every drop of water used in a household, which has led to higher water conservation in countries like The Gambia and Tanzania. The CEO of one such company, eWATERpay, claims that these meters have reduced water waste by 99 percent.
Such efforts take time and require many countries to work together. While some strides have been made, based on information from a 2017 UN study, not enough has been done to ensure that this goal will be met by 2030. Managing these targets properly is the only way to make certain all people will benefit from clean water and effective sanitation in the years ahead.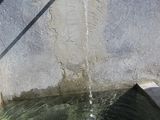 gradual changes in all the interconnected weather elements on our planet.
period of greatly reduced precipitation.
introduction of harmful materials into the environment.
sanitation
promotion of hygiene, health, and cleanliness.
situation that arises when demand for a good or service is greater than the supply of that good or service.
United Nations
international organization that works for peace, security and cooperation.
waste
material that has been used and thrown away.
water scarcity
situation when the amount of water available does not meet the amount of water needed or wanted by a population.
entire river system or an area drained by a river and its tributaries.