The newest, thinnest crust on Earth is located near the center of mid-ocean ridge—the actual site of seafloor spreading. The age, density, and thickness of oceanic crust increases with distance from the mid-ocean ridge.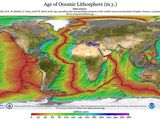 Triple Junctions
Seafloor spreading and rift valleys are common features at "triple junctions." Triple junctions are the intersection of three divergent plate boundaries. The triple junction is the central point where three cracks (boundaries) split off at about 120° angles from each other.
In the Afar Triple Junction, the African, Somali, and Arabian plates are splitting from each other. The Great Rift Valley and Red Sea (a major site of seafloor spreading) are the result of plate tectonics in the Afar Triple Junction.