A river is a ribbon-like body of water that flows downhill from the force of gravity. A river can be wide and deep, or shallow enough for a person to wade across. A flowing body of water that is smaller than a river is called a stream, creek, or brook. Some rivers flow year-round, while others flow only during certain seasons or when there has been a lot of rain. The largest rivers can be thousands of miles long. The erosional power of rivers can form geologic wonders like the Grand Canyon.
All rivers have a starting point where water begins its flow. This source is called a headwater. The headwater can come from rainfall or snowmelt in mountains, but it can also bubble up from groundwater or form at the edge of a lake or large pond. The other end of a river is called its mouth, where water empties into a larger body of water, such as a lake or ocean. Along the way, rivers may pass through wetlands where plants slow down the water and filter out pollutants.
The water that flows in rivers is fresh, meaning that it contains less than one percent salt. However, rivers still carry and distribute important salts and nutrients to support plant and animal life. For this reason, some of the most biodiverse habitats on our planet can be found around rivers. Collectively, scientists estimate that all the rivers in the world carry about 3.6 billion metric tons (four billion tons) of salt from land to the ocean each year.
Rivers can also form what is called an estuary, where salty seawater mixes with fresh water near the river mouth to form "brackish water." The Hudson River in New York, U.S., is an example of an estuary where brackish water extends more than 241 kilometers (150 miles) upstream.
Fast-flowing rivers carry pebbles, sand, and silt. As the river begins to slow down—as in a wetland, at the outside of a bend, or where the river widens, such as at the mouth—these sediments sink and build up to form deltas. Rivers that overflow their banks also deposit sediment in the surrounding flood plain. These deltas and floodplains are highly fertile agricultural zones that offer tremendous value to the surrounding people. In Egypt, for example, the Nile River and its adjacent delta helped give rise to the Egyptian empire that built the pyramids. Today, farmers in the flood plain of California's Central Valley produce approximately one-third of the vegetables and two-thirds of the fruits and nuts consumed in the United States.
Humans use rivers for irrigation in agriculture, for drinking water, for transportation, to produce electricity through hydroelectric dams, and for leisure activities like swimming and boating. Each of these uses can affect the health of a river and its surrounding ecosystems. Monitoring the health of rivers, lakes, and streams is important work that is conducted by scientists called limnologists.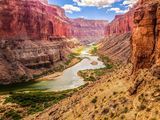 all the different kinds of living organisms within a given area.
brackish water
salty water, usually a mixture of seawater and freshwater.
community and interactions of living and nonliving things in an area.
mouth of a river where the river's current meets the sea's tide.
water found in an aquifer.
hydroelectricity
power generated by moving water converted to electricity. Also called hydroelectric energy or hydroelectric power.
watering land, usually for agriculture, by artificial means.
limnologist
person who studies lakes and ponds.
river bank
raised edges of land on the side of a river.
solid material transported and deposited by water, ice, and wind.