Light entering a water droplet is refracted. It is then reflected by the back of the droplet. As this reflected light leaves the droplet, it is refracted again, at multiple angles.
Rainbows are actually full circles. The antisolar point is the center of the circle. Viewers in aircraft can sometimes see these circular rainbows.
White light is how our eyes perceive all the colors of the rainbow mixed together. Sunlight appears white.
At their edges, the colors of a rainbow actually overlap. This produces a sheen of "white" light, making the inside of a rainbow much brighter than the outside.
The glow is formed by light passing through raindrops, not reflected by them. Some scientists call this glow a zero-order glow.
Sometimes, a viewer may see a "double rainbow." In this phenomenon, a faint, secondary rainbow appears above the primary one.
Double rainbows are caused by light being reflected twice inside the raindrop. As a result of this second reflection, the spectrum of the secondary rainbow is reversed: red is on the inner section of the arch, while violet is on the outside.
Light can be reflected from many angles inside the raindrop. A rainbow's "order" is its reflective number. (Primary rainbows are first-order rainbows, while secondary rainbows are second-order rainbows.) Higher-order rainbows appear to viewers facing both toward and away from the sun.
Tertiary rainbows are difficult to see for three main reasons. First, the viewer is looking toward the sun—the center of a tertiary rainbow is not the antisolar point, it's the sun itself. Second, tertiary rainbows are much, much fainter than primary or secondary rainbows. Finally, tertiary rainbows are much, much broader than primary and secondary rainbows.
Quaternary rainbows are fourth-order rainbows, and also appear to viewers facing the sun. They are even fainter and broader than tertiary rainbows.
Beyond quaternary rainbows, higher-order rainbows are named by their reflective number, or order. In the lab, scientists have detected a 200th-order rainbow.
A twinned rainbow is two distinct rainbows produced from a single endpoint. Twinned rainbows are the result of light hitting an air mass with different sizes and shapes of water droplets—usually a raincloud with different sizes and shapes of raindrops.
A reflection rainbow appears above a body of water. A primary rainbow is reflected by the water, and the reflected light produces a reflection rainbow. Reflection rainbows do not mirror the primary rainbow—they often appear to stretch above it.
A reflected rainbow appears directly on the surface of a body of water. A reflected rainbow is created by rays of light reflected by the water surface, after the rays have have passed through water droplets. Reflected rainbows to not appear to form a circle with a primary rainbow, although their endpoints seem to meet in an almond-shaped formation.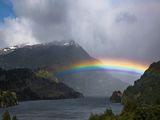 Rainbows Near and Far
Some scientists think rainbows also exist on Titan, one of the moons of the planet Saturn. Titan has a wet surface and humid clouds. The sun is also visible from Titan, so it has all the ingredients for rainbows.
a large volume of air that is mostly consistent, horizontally, in temperature and humidity.
ancestor
organism from whom one is descended.
antisolar point
imaginary point directly oppsite the sun.
arc
part of the outline of a circle.
archer
person who uses a bow and arrow.
layers of gases surrounding a planet or other celestial body.
a dip or depression in the surface of the land or ocean floor.
bow
curved piece of wood or plastic with its ends held together by a string.
Buddhist
person who follows the teachings of Siddhartha Gautama (Buddha).
civil rights
set of fundamental freedoms guaranteed to all individuals, such as participation in the political system, ability to own property, and due process and equal protection under the law.
visible mass of tiny water droplets or ice crystals in Earth's atmosphere.
constructive interference
combination of two or more waves of equal frequency and phase, resulting in their mutual reinforcement and producing a single amplitude equal to the sum of the amplitudes of the individual waves.
deity
very holy or spiritual being.
demon
evil spirit or magical creature.
destructive interference
combination two waves of equal frequency and opposite phase, resulting in their cancellation.
distinguish
to differentiate or recognize as different.
Earthlight
faint illumination of the part of the moon not illuminated by sunlight, caused by the reflection of light from Earth. Also called earthshine.
electromagnetic spectrum
continous band of all kinds of radiation (heat and light).
gamma radiation
very high-frequency electromagnetic radiation.
Hindu
religion of the Indian subcontinent with many different sub-types, most based around the idea of "daily morality."
line where the Earth and the sky seem to meet.
humid
air containing a large amount of water vapor.
inclusive
containing may different parts or elements.
characteristic to or of a specific place.
indigo
type of plant used to produce a dark blue dye. Indigo also refers to the color and dye itself.
infrared radiation
part of the electromagnetic spectrum with wavelengths longer than visible light but shorter than microwaves.
legendary
famous, heroic, or celebrated.
leprechaun
magical dwarf and hider of treasure in Irish mythology.
LGBT
(lesbian, gay, bisexual, transgender) having to do with the queer community, particularly as it relates to sexuality, gender identity, gender, race, class, ability, and age.
sudden electrical discharge from clouds.
lunar
having to do with Earth's moon or the moons of other planets.
menorah
candle-holder, traditionally with seven branches, used in Jewish rituals and emblematic of Jewish faith.
clouds at ground-level, but with greater visibility than fog.
monochrome
having to do with different shades of the same color.
myth
legend or traditional story.
nanometer
(nm) billionth of a meter.
Norse mythology
stories, traditions, and beliefs of ancient Scandinavia.
optical illusion
image seen by the eyes that is different than what is actually there.
phenomena
(singular: phenomenon) any observable occurrence or feature.
radio wave
electromagnetic wave with a wavelength between 1 millimeter and 30,000 meters, or a frequency between 10 kilohertz and 300,000 megahertz.
radius
ray extending from the center of a circle or sphere to its surface or circumference.
multicolored arc produced by sunlight striking raindrops.
raindrop
drop of liquid from the atmosphere.
reflection
return of light, sound, or heat after being bounced off a surface.
refraction
seeming bending of light by liquids, solids, or gases.
refractive index
measure of the extent to which a substance slows down light waves passing through it. The refractive index of a substance is equal to the ratio of the velocity of light in a vacuum to its speed in that substance. Its value determines the extent to which light is refracted when entering or leaving the substance.
reinforce
to strengthen with additional support.
Roy G. Biv
device used to remember the colors of the visible spectrum: red, orange, yellow, green, blue, indigo, violet.
spectrometer
device for measuring the frequency, wavelength, and refraction of radiation.
spectrum
continuous band of material with each piece differing in small amounts from the piece before and after it.
spray
small amounts of liquid water falling through the air, but not coming from clouds as rain or fog.
sunlight
visible radiation from the sun.
supernatural
having to do with powers not explained by science or nature.
supernumerary rainbow
series of narrow, faint, pastel-colored rainbows below the inner arch of a rainbow. Also called a stacker rainbow.
tertiary
having to do with a third rank, order, or view.
ultraviolet
having to do with light of short wavelengths, invisible to the human eye.
visible light spectrum
light and colors that can be seen by human beings.
flow of water descending steeply over a cliff. Also called a cascade.
wave
vibrations (oscillations) around a fixed location, usually involving a transfer of energy from one point to another.
wavelength
the distance between the crests of two waves.
Wiphala
square emblem, featuring a diagonal patchwork design, representing indigenous peoples of the Andes.
X-ray
radiation in the electromagnetic spectrum with a very short wavelength and very high energy.