Polar vortex is the name given to the strong currents of wind formed by low pressure that occurs in the Arctic and Antarctic regions. The name originates from the fact that these winds circulate and form a vortex near the North and South Poles of the planet. While the term may seem like a more recent invention, it has been used since the mid-1800s.

The polar vortex should not be confused with a type of storm. It is cold air current that occurs in an upper level of the atmosphere known as the stratosphere. The polar vortex contains some of the coldest air on Earth. The air is often contained by a strong jet of west-to-east moving winds that act like a wall, containing the cold air. These winds move at more than 161 kilometers (100 miles) per hour, which help lock the air into place. The vortex in the Northern Hemisphere is believed to have two centers—one in northern Canada near Baffin Island and another in northeastern Siberia. The Southern Hemisphere's polar vortex is usually centered around the South Pole.

Occasionally, changes in air pressure and wind help to diminish the "wall" of air containing the polar vortex, causing wobbles within the vortex. This unleashes cold air from the poles, allowing it to spread to other regions. This results in temperatures plummeting below -18°C (0°F) in major cities. In the United States, the weakened vortex can cause bitterly cold temperatures to reach as far south as Florida. The Antarctic's polar vortex is stronger than its northern counterpart and not as susceptible to these wobbles.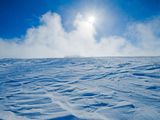 Antarctic
region at Earth's extreme south, encompassed by the Antarctic Circle.
region at Earth's extreme north, encompassed by the Arctic Circle.
layers of gases surrounding a planet or other celestial body.
winds speeding through the upper atmosphere.
polar
having to do with the North and/or South Pole.
cyclone located around the North Pole or the South Pole.
pole
extreme north or south point of the Earth's axis.
stratosphere
level of Earth's atmosphere, extending from 10 kilometers (6 miles) to 50 kilometers (31 miles) above the surface of the Earth.
terrestrial
having to do with the Earth or dry land.
vortex
column of rotating fluid, such as air (wind) or water.
movement of air (from a high pressure zone to a low pressure zone) caused by the uneven heating of the Earth by the sun.