Paleoclimatology is the study of previous climates that have existed during Earth's different geologic ages. Paleoclimatologists try to identify the causes of climate changes that have happened in the past in order to better understand our present and future climate.
Since modern records do not outline most of Earth's climatic past, scientists must gather data preserved in nature over the millennia in paleological remains referred to as proxy records. The growth and size of tree rings on fallen trees are one type of proxy. Studying tree rings as proxies—a practice known as dendrochronology—helps paleoclimatologists understand the general temperature or precipitation that occurred on Earth when the tree was alive. This enables scientists to theorize how temperature changes and periods of droughts may have occurred in the past.
The shells of deceased marine creatures, such as various species of diatoms and foraminifera, are another type of proxy. They have become buried beneath layers of sediment over time and contain chemicals from the time when the shell originally formed. These chemicals can be analyzed to determine the water chemistry and temperature at the time these organisms lived.
Scientists can also drill into ice sheets and extract ice cores to analyze deposits trapped within the ice, such as pollen and gas. This allows them to better understand atmospheric and climatic conditions that existed when particular layers of the sheet formed. All of this proxy data is synthesized to develop an understanding of Earth's climate over different geologic periods.
The field of paleoclimatology has taught scientists that the climate of Earth is in a perpetual state of change. Research has revealed that there have been several ice ages as well as several periods of global warming in Earth's history. Additionally, scientists have determined that there can be both short- and long-term trends in climate. For instance, while climate change can occur—and often has occurred—over an extended amount of time, paleoclimatologists have also recorded shorter warming periods during an ice age. Scientists have become aware that Earth is very dynamic and that past events might help us better understand the past and prepare for future climate changes.
Paleoclimatology has also helped scientists study and understand how other environmental factors, such as continental drift, solar energy, greenhouses gases in the atmosphere, and the variation in Earth's orbit have all affected the climate of Earth over time. The science of paleoclimatology is vital to our understanding of climate on Earth. As scientists become increasingly aware of how climates have been influenced in the past, they can develop models that help predict how increased carbon dioxide levels and other changes might impact the climate of Earth in the future.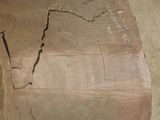 climate
all weather conditions for a given location over a period of time.
climatologist
person who studies long-term patterns in weather.
dendrochronology
study of tree rings and how they can identify and date weather events and changes in the atmosphere.
diatom
type of algae, most of which are only one cell.
period of greatly reduced precipitation.
foraminifera
(singular: foraminifer.) Type of microscopic organism (protist) that forms a shell and lives in marine or salty conditions.
greenhouse gas
gas in the atmosphere, such as carbon dioxide, methane, water vapor, and ozone, that absorbs solar heat reflected by the surface of the Earth, warming the atmosphere.
ice age
long period of cold climate where glaciers cover large parts of the Earth. The last ice age peaked about 20,000 years ago. Also called glacial age.
ice core
sample of ice taken to demonstrate changes in climate over many years.
study of the atmosphere of prehistoric Earth.
all forms in which water falls to Earth from the atmosphere.
proxy data
non-climate information, such as ice cores or tree rings, analyzed for clues about climate from hundreds or millions of years ago.
degree of hotness or coldness measured by a thermometer with a numerical scale.
weather pattern
repeating or predictable changes in the Earth's atmosphere, such as winds, precipitation, and temperatures.