The process that creates ocean vents takes place in three zones: the recharge zone, the reaction zone, and the upflow zone.
The temperature of a vent fluid, and the temperature difference between the vent fluid and surrounding seawater, can determine the chemistry of a vent.
Ocean vents can be classified as black smokers, white smokers, or snowblowers. All these ocean vents form in the same way. Their differences are marked by color, temperature, and chemistry.
These manned and unmanned vehicles collect samples—of the seafloor itself, chimneys, bacteria, and even fish.
While ocean vents contribute to the ocean's chemistry, their profound heat only slightly influences ocean temperatures. The reason is that while vent fluids are super-hot, they are super-cooled by the tons of cold water surrounding them. In fact, beyond a meter (3 feet) of a vent, the water is back to a near-freezing 1.7° Celsius (35° Fahrenheit).
The waters surrounding Papua New Guinea in the South Pacific are rich in SMS deposits. The world's first major SMS mining operation is expected to begin extraction in this area by 2017.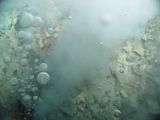 Anhydrite
Anhydrite, the mineral that makes up the chimneys of black smokers, is actually not black—it's white before it interacts with other particles in vent fluid and precipitates in a ring around the vent.
Chemosynthetic Communities
Chemosynthetic communities are not limited to ocean vents, or even the ocean. These communities, which can function without sunlight, have been documented at cold seeps, in whale carcasses, and in shipwrecks. On land, chemosynthetic communities thrive in the hot, toxic hydrothermal vents that create hot springs and fumaroles.
Mechanic's Garage
Most research vessels have enough spare parts to rebuild an entire submersible! When you're out to sea investigating ocean vents and other seafloor features, you can't just go to your local hardware store to pick up a new gadget.
Rotten Rocks
How did one scientist describe the snow-white shrimp covering a black smoker? "They look like maggots on a piece of rotting meat!"
Homer Simpson is Hot
Just like mountains, vents have individual names. Some vents are named by the scientists who discover them, some are named for geographic features (such as the onion domes of the Kremlin vent field), and some are just fun.
• Godzilla, Sasquatch, Salty Dawg (North Pacific Ocean)
• Champagne (Caribbean Sea)
• Homer Simpson, Scooby, Tweety (South Pacific Ocean)
• Snake Pit, Lucky Strike, the Kremlin (Atlantic Ocean)
• Kairei, Edmond (Indian Ocean)
ET?
The planet Jupiter's moon Europa is probably covered by a huge, ice-capped ocean. Scientists have guessed that Europa's ocean may hide hydrothermal vents . . . and those vents may be the most likely spot for extraterrestrial life in our solar system.