When the leading edge of a dense tectonic plate meets the leading edge of a less-dense plate, the denser plate bends downward. This place where the denser plate subducts is called a subduction zone.
More rarely, ocean trenches can be formed when two plates carrying oceanic crust meet. The Mariana Trench, in the South Pacific Ocean, is formed as the mighty Pacific plate subducts beneath the smaller, less-dense Philippine plate.
Pressure at the bottom of the Challenger Deep, the deepest spot on Earth, is about 12,400 tons per square meter (8 tons per square inch). Large ocean animals, such as sharks and whales, cannot live at this crushing depth.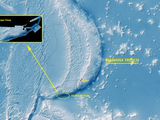 Ocean Deep
Ocean trenches were not studied and explored until the 20th century. These deep-sea canyons were originally called "deeps," such as the Challenger Deep or the Horizon Deep.
Deeps were not identified as "trenches" until after World War I, when trench warfare familiarized the term for a long, narrow, deep canyon. Today, the Challenger Deep is the deepest part of the Mariana trench, while the Horizon Deep is the deepest part of the Tonga trench.
Dive Deep
The Challenger Deep is 10,994 meters (36,070 feet) below the ocean's surface. For comparison, Mount Everest, the world's tallest mountain, is 8,850 meters (29,035 feet) above sea level. Mount Everest could fit inside the Mariana Trench with more than 2 kilometers (1 mile) to spare.
Deep Disposal
The Challenger Deep is the deepest part of the ocean. It sits on a subduction zone, where the Pacific plate is subducting beneath the Philippine plate.

Some scientists argue that this makes the Challenger Deep the perfect place to dispose of toxic nuclear waste. The material would be far from human habitation and would melt into the Earth's molten mantle at the subduction zone. An international agreement (the London Convention) currently makes this proposed method of nuclear waste disposal illegal.