All fossil fuels formed in a similar way. Hundreds of millions of years ago, even before the dinosaurs, Earth had a different landscape. It was covered with wide, shallow seas and swampy forests.
We mine coal out of the ground so we can burn it for energy. There are two ways that we can mine coal: underground mining and surface mining.
Underground mining is used when the coal is located below the surface of the Earth, sometimes 300 meters (1,000 feet) deep—that's deeper than most of the Great Lakes! Miners take an elevator down a mineshaft. They operate heavy machinery that cuts the coal out of the Earth and brings it above ground. This can be dangerous work because cutting coal can release dangerous gases. The gases can cause explosions or make it hard for miners to breathe.
Coal is a reliable source of energy. We can rely on it day and night, summer and winter, sunshine or rain, to provide fuel and electricity.
Petroleum is trapped by underground rock formations. In some places, oil bubbles right out of the ground. At the LaBrea Tar Pits, in Los Angeles, California, big pools of thick oil bubble up through the ground. Remains of animals that got trapped there thousands of years ago are still preserved in the tar!
Most of the world's oil is still deep under the ground. We drill through the earth to access the oil. Some deposits are on land, and others are under the ocean floor.
Once oil companies begin drilling with a "drill rig," they can extract petroleum 24 hours a day, seven days a week, 365 days a year. Many successful oil sites produce oil for about 30 years. Sometimes they can produce oil for much longer.
There are advantages to drilling for oil. It is relatively inexpensive to extract. It is also a reliable and dependable source of energy and money for the local community.
Oil provides us with thousands of conveniences. In the form of gasoline, it is a portable source of energy that gives us the power to drive places. Petroleum is also an ingredient in many items that we depend on.
However, burning gasoline is harmful to the environment. It releases hazardous gases and fumes into the air that we breathe. There is also the possibility of an oil spill. If there is a problem with the drilling machinery, the oil can explode out of the well and spill into the ocean or surrounding land. Oil spills are environmental disasters, especially offshore spills. Oil floats on water, so it can look like food to fish and ruin birds' feathers.
There is so much natural gas underground that it is measured in million, billion, or trillion cubic meters.
Natural gas is found in deposits a few hundred meters underground. In order to get natural gas out of the ground, companies drill straight down. However, natural gas does not form in big open pockets. Natural gas is trapped in rock formations that can stretch for kilometers.
Liquid natural gas takes up much less space than the gaseous form. The amount of natural gas that would fit into a big beach ball would fit into a ping-pong ball as a liquid! LNG can be easily stored and used for different purposes. LNG can even be a replacement for gasoline.
Natural gas is relatively inexpensive to extract, and is a "cleaner" fossil fuel than oil or coal. When natural gas is burned, it only releases carbon dioxide and water vapor (which are the exact same gases that we breathe out when we exhale!) This is healthier than burning coal.
Fossil fuels are the leading non-renewable energy sources around the world. There are others, however.
However, nuclear energy is difficult to harvest. Nuclear power plants are very complicated to build and run. Many communities do not have the scientists and engineers to develop a safe and reliable nuclear energy program.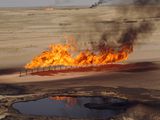 Fossilized Energy
According to the Central Intelligence Agency, the world generates more than 66% of its electricity from fossil fuels, and another 8% from nuclear energy.