The term "metamorphosis" is most often used in reference to the process of a caterpillar changing into a butterfly. However, the word "metamorphosis" is a broad term that indicates a change from one thing to another. Even rocks, a seemingly constant substance, can change into a new type of rock. Rocks that undergo a change to form a new rock are referred to as metamorphic rocks.
In the rock cycle, there are three different types of rocks: sedimentary, igneous, and metamorphic. Sedimentary and igneous rocks began as something other than rock. Sedimentary rocks were originally sediments, which were compacted under high pressure. Igneous rocks formed when liquid magma or lava—magma that has emerged onto the surface of the Earth—cooled and hardened. A metamorphic rock, on the other hand, began as a rock—either a sedimentary, igneous, or even a different sort of metamorphic rock. Then, due to various conditions within the Earth, the existing rock was changed into a new kind of metamorphic rock.
The conditions required to form a metamorphic rock are very specific. The existing rock must be exposed to high heat, high pressure, or to a hot, mineral-rich fluid. Usually, all three of these circumstances are met. These conditions are most often found either deep in Earth's crust or at plate boundaries where tectonic plates collide. In order to create metamorphic rock, it is vital that the existing rock remain solid and not melt. If there is too much heat or pressure, the rock will melt and become magma. This will result in the formation of an igneous rock, not a metamorphic rock.
Consider how granite changes form. Granite is an igneous rock that forms when magma cools relatively slowly underground. It is usually composed primarily of the minerals quartz, feldspar, and mica. When granite is subjected to intense heat and pressure, it changes into a metamorphic rock called gneiss.
Slate is another common metamorphic rock that forms from shale. Limestone, a sedimentary rock, will change into the metamorphic rock marble if the right conditions are met.
Although metamorphic rocks typically form deep in the planet's crust, they are often exposed on the surface of the Earth. This happens due to geologic uplift and the erosion of the rock and soil above them. At the surface, metamorphic rocks will be exposed to weathering processes and may break down into sediment. These sediments could then be compressed to form sedimentary rocks, which would start the entire cycle anew.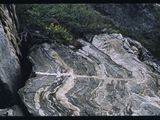 rock formed by the cooling of magma or lava.
lava
molten rock, or magma, that erupts from volcanoes or fissures in the Earth's surface.
molten, or partially melted, rock beneath the Earth's surface.
metamorphic rock
rock that has transformed its chemical qualities from igneous or sedimentary.
movement and interaction of the Earth's plates.
processes that explain the relationship between the three rock types: igneous, sedimentary, and metamorphic. Any rock type can become any other.
rock formed from fragments of other rocks or the remains of plants or animals.
uplift
elevation of the Earth's surface due to tectonic or other natural activity.