Jainism is one of the three most ancient religions of India, with roots that go back to at least the mid-first century B.C.E. Today, it is still an integral part of Indian culture. Jainism teaches that the path to enlightenment is through nonviolence and reducing harm to living things (including plants and animals) as much as possible.
Like Hindus and Buddhists, Jains believe in reincarnation. This cycle of birth, death, and rebirth is determined by one's karma. Jains believe bad karma is caused by harming living things. To avoid bad karma, Jains must practice ahimsa, a strict code of nonviolence. Jains believe plants, animals, and even some nonliving things (like air and water) have souls, just as humans do. The principle of nonviolence includes doing no harm to humans, plants, animals, and nature. For that reason, Jains are strict vegetarians—so strict, in fact, that eating root vegetables is not allowed because removing the root would kill the plant. However, Jains can eat vegetables that grow above the ground, because they can be picked while leaving the rest of the plant intact. In complete dedication to nonviolence, the highest-ranked Jain monks and nuns avoid swatting at mosquitoes or sweeping a path on the floor so they do not step on an ant. In addition to nonviolence, Jainism has four additional vows that guide believers: always speak the truth, do not steal, show sexual restraint (with celibacy as an ideal), and do not become attached to worldly things.
While it shares many beliefs and values with Hinduism and Buddhism, Jainism has its own spiritual leaders and teachers. Jains honor 24 Jinas, or Tirthankaras: spiritual leaders who achieved enlightenment and have been liberated from the cycle of rebirth. One of the most influential Jinas was Mahavira, born Vardhamana, who is considered the 24th, and final, Jina. He was born into the kshatriya or warrior class, traditionally dated in 599 B.C.E., though many scholars believe he was born later. When he was 30 years old, he renounced his worldly possessions to live the life of an ascetic (one who practices self-denial of worldly things). After over 12 years of intense fasting and meditation, Vardhamana achieved enlightenment and became Mahavira (meaning "Great Hero"). According to tradition, he established a large community of Jain followers: 14,000 monks and 36,000 nuns at the time of his death.
Today, most followers of Jainism live in India, with estimates of upwards of four million followers. Jainism's teachings have influenced many all over the world. Though born a Hindu, Mahatma Gandhi admired the Jains' commitment to complete nonviolence, and he incorporated that belief into his movement for Indian independence.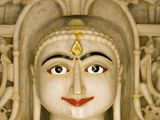 Ascetic
practice of strict self-denial as a measure of personal and especially spiritual discipline
celibacy
avoiding all sexual relationships.
learned behavior of people, including their languages, belief systems, social structures, institutions, and material goods.
enlightenment
spiritual or intellectual understanding.
Jainism
religion of India originating in the sixth century B.C. E. and teaching liberation of the soul by right knowledge, right faith, and right conduct.
karma
spiritual principle mostly associated with Hinduism and Buddhism, in which the intentions and actions of an individual influence the future of that individual.
nonviolence
philosophy of rejecting physical force and transforming society through peaceful protest.
reincarnation
rebirth in new bodies or forms of life
religion
a system of spiritual or supernatural belief.
vegetarian
person who does not eat meat.