Volcanic ash deposits tend to be thicker and have larger particles closer to the eruption site. As distance from the volcano increases, the deposit tends to thin out. The 1994 double eruption of Vulcan and Tavurvur in Papua New Guinea covered the nearby city of Rabaul in a layer of ash 75 centimeters (about 2 feet) deep, while areas closer to the volcanoes were buried under 150-213 centimeters (5-7 feet) of ash.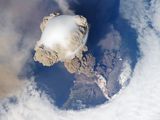 Andisol
Andisol is a type of soil formed from volcanic ash. Andisols are generally very fertile, support extensive agricultural development, and exist mostly around the Ring of Fire.
Pompeii Preserved
One of the most famous explosive volcanic eruptions occurred in 79 CE, when Mount Vesuvius buried the Roman (now Italian) cities of Pompeii under 18 meters (60 feet) of ash. The ash buried the cities so completely that it preserved entire buildings, paintings, and artifacts. It also created very detailed molds around the bodies of people who were killed.
Starting in the 18th century, archaeologists began excavating Pompeii. They discovered the hollow impressions left by bodies in the hardened ash and developed a way to inject them with plaster to create casts of the bodies. Today the excavated city and its gruesome models of dead and dying people and animals are popular tourist attractions.
Flying High
Scientists recently discovered that the eruption of Alaska's Mount Churchill roughly 1,200 years ago produced an ash fall that reached from Canada to Germany some 7000 kilometers (4350 miles) away. The discovery was especially surprising given that the volcano ejected a relatively small amount of ash of 50 cubic kilometers (12 cubic miles). As the ash spread, however, it transformed into microscopic shards called cryptotephra that had a unique compositional signature.
Scientists were able to identify these distinct shards in Nova Scotia, Greenland, and across Northern Europe, suggesting that the cryptotephra was so light that it travelled easily along the high-altitude winds of the Northern Hemisphere.
Smoke Signal
When Mount St. Helens, in the U.S. state of Washington, erupted in 1980, a column of ash from the volcano rose 19 kilometers (12 miles) into the air.