Volcanic ash deposits tend to be thicker and have larger particles closer to the eruption site. As distance from the volcano increases, the deposit tends to thin out. The 1994 double eruption of Vulcan and Tavurvur in Papua New Guinea covered the nearby city of Rabaul in a layer of ash 75 centimeters (about 2 feet) deep, while areas closer to the volcanoes were buried under 150-213 centimeters (5-7 feet) of ash.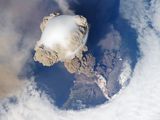 Andisol
Andisol is a type of soil formed from volcanic ash. Andisols are generally very fertile, support extensive agricultural development, and exist mostly around the Ring of Fire.
Pompeii Preserved
One of the most famous explosive volcanic eruptions occurred in 79 CE, when Mount Vesuvius buried the Roman (now Italian) cities of Pompeii under 18 meters (60 feet) of ash. The ash buried the cities so completely that it preserved entire buildings, paintings, and artifacts. It also created very detailed molds around the bodies of people who were killed.
Starting in the 18th century, archaeologists began excavating Pompeii. They discovered the hollow impressions left by bodies in the hardened ash and developed a way to inject them with plaster to create casts of the bodies. Today the excavated city and its gruesome models of dead and dying people and animals are popular tourist attractions.
Flying High
Scientists recently discovered that the eruption of Alaska's Mount Churchill roughly 1,200 years ago produced an ash fall that reached from Canada to Germany some 7000 kilometers (4350 miles) away. The discovery was especially surprising given that the volcano ejected a relatively small amount of ash of 50 cubic kilometers (12 cubic miles). As the ash spread, however, it transformed into microscopic shards called cryptotephra that had a unique compositional signature.
Scientists were able to identify these distinct shards in Nova Scotia, Greenland, and across Northern Europe, suggesting that the cryptotephra was so light that it travelled easily along the high-altitude winds of the Northern Hemisphere.
Smoke Signal
When Mount St. Helens, in the U.S. state of Washington, erupted in 1980, a column of ash from the volcano rose 19 kilometers (12 miles) into the air.
airborne
transported by air currents.
aircraft
vehicle able to travel and operate above the ground.
air traffic controller
person who monitors the position, speed, and direction of different aircraft to ensure safe and efficient air travel.
layers of gases surrounding a planet or other celestial body.
large mass of snow and other material suddenly and quickly tumbling down a mountain.
aviation
the art and science of creating and operating aircraft.
bind
to connect or stick together.
cement
hard material used as a building material or a binding agent for stronger building materials such as concrete.
characterize
to describe the characteristics of something.
coarse
rough or composed of large, jagged particles.
edge of land along the sea or other large body of water.
collapse
to fall apart completely.
communication
sharing of information and ideas.
computer
device designed to access data, perform prescribed tasks at high speed, and display the results.
coordinate
to work together or organize for a specific goal.
costly
expensive or having a lot of value.
damage
harm that reduces usefulness or value.
debate
to argue or disagree in a formal setting.
debris
remains of something broken or destroyed; waste, or garbage.
deform
to put out of shape or distort.
deposit
to place or deliver an item in a different area than it originated.
disease
harmful condition of a body part or organ.
dispatch
to systematically send off.
disseminate
to scatter or spread widely.
dissolve
to break up or disintegrate.
tiny, dry particles of material solid enough for wind to carry.
community and interactions of living and nonliving things in an area.
efficient
performing a task with skill and minimal waste.
eject
to get rid of or throw out.
electricity
set of physical phenomena associated with the presence and flow of electric charge.
emergency
sudden, unplanned event that requires immediate action.
engine
machine that converts energy into power or motion.
equipment
tools and materials to perform a task or function.
explosive
material that can quickly and violently expand due to a chemical change.
famine
an extreme shortage of food in one area during a long period of time.
government
system or order of a nation, state, or other political unit.
grid
horizontal and vertical lines used to locate objects in relation to one another on a map.
industry
activity that produces goods and services.
inflammation
pain, tenderness, and disturbed function of an area of the body.
infrastructure
structures and facilities necessary for the functioning of a society, such as roads.
landfill
site where garbage is layered with dirt and other absorbing material to prevent contamination of the surrounding land or water.
lava
molten rock, or magma, that erupts from volcanoes or fissures in the Earth's surface.
sudden electrical discharge from clouds.
liquid
state of matter with no fixed shape and molecules that remain loosely bound with each other.
lung
organ in an animal that is necessary for breathing.
machinery
mechanical appliances or tools used in manufacturing.
molten, or partially melted, rock beneath the Earth's surface.
magma chamber
underground reservoir that holds molten rock.
menacing
threatening or perceived as harmful.
mineral
inorganic material that has a characteristic chemical composition and specific crystal structure.
molten
solid material turned to liquid by heat.
mountain
landmass that forms as tectonic plates interact with each other.
park
area of land set aside for recreational use.
Patagonia
large plateau in southern South America, stretching from the Andes Mountains to the Atlantic Ocean.
phenomenon
an unusual act or occurrence.
plume
single, upward flow of a fluid, such as water or smoke.
powder
solid substance reduced to fine, loose particles.
precaution
action taken to avoid a negative outcome or event.
procedure
method or steps followed to achieve a goal.
current of volcanic ash, lava, and gas that flows from a volcano.
raze
to destroy completely, especially by tearing down.
reflect
to rebound or return light from a surface.
any area on Earth with one or more common characteristics. Regions are the basic units of geography.
rock
natural substance composed of solid mineral matter.
sand
small, loose grains of disintegrated rocks.
sewage treatment
process of removing harmful pollutants and contaminants from water discarded by homes and businesses, so the water is safe for most uses.
sheer
utter and unmixed with anything else.
sludge
liquid waste, such as that from the coal mining and cleaning process, also called slurry.
solar radiation
light and heat from the sun.
stall
to cause to slow or come to a stop.
stratosphere
level of Earth's atmosphere, extending from 10 kilometers (6 miles) to 50 kilometers (31 miles) above the surface of the Earth.
degree of hotness or coldness measured by a thermometer with a numerical scale.
tephra
solid material ejected from a volcano during an eruption.
thunder
to make a loud, deep noise.
traffic
movement of many things, often vehicles, in a specific area.
tropical storm
weather pattern of swirling winds over a center of low pressure above warm ocean waters. Tropical storms are less powerful than cyclones and hurricanes.
turbine
machine that captures the energy of a moving fluid, such as air or water.
violent
strong, destructive force.
visibility
the ability to see or be seen with the unaided eye. Also called visual range.
fragments of lava less than 2 millimeters across.
volcanic eruption
activity that includes a discharge of gas, ash, or lava from a volcano.
volcanic glass
hard, brittle substance produced by lava cooling very quickly.
volcanic lightning
bolts of electricity produced in a volcanic plume. Also called a dirty thunderstorm.
volcanic winter
drop in global temperatures due to volcanic debris in the atmosphere blocking the sun.
an opening in the Earth's crust, through which lava, ash, and gases erupt, and also the cone built by eruptions.
weather pattern
repeating or predictable changes in the Earth's atmosphere, such as winds, precipitation, and temperatures.
wind
movement of air (from a high pressure zone to a low pressure zone) caused by the uneven heating of the Earth by the sun.
wood
hard material that makes up the trunk and branches of trees and shrubs.
wreak
to inflict or bring about something painful.