A hot spot is an area on Earth that exists over a mantle plume. A mantle plume is an area under the rocky outer layer of Earth, called the crust, where magma is hotter than surrounding magma. Heat from this extra hot magma causes melting and thinning of the rocky crust, which leads to widespread volcanic activity on Earth's surface above the plume.
While most volcanoes form along tectonic plate boundaries, mantle plumes and hot spots lead to their development as well. Hot spot volcanoes occur far from plate boundaries. Because the hot spot is caused by mantle plumes that exist below the tectonic plates, as the plates move, the hot spot does not, and may create a chain of volcanoes on the Earth's surface. Neither the Hawaiian Islands nor Yellowstone National Park are near plate boundaries. Rather, the volcanoes that form the Hawaiian Islands and the volcanic activity at Yellowstone National Park are due to their locations over hot spots.
Geologists estimate there are about 40 to 50 hot spots around the world.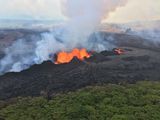 line separating geographical areas.
rocky outermost layer of Earth or other planet.
geologist
person who studies the physical formations of the Earth.
intensely hot region deep within the Earth that rises to just underneath the surface. Some hot spots produce volcanoes.
molten, or partially melted, rock beneath the Earth's surface.
mantle plume
upwelling of magma within Earth's mantle.
plume
single, upward flow of a fluid, such as water or smoke.
tectonic plate
massive slab of solid rock made up of Earth's lithosphere (crust and upper mantle). Also called lithospheric plate.
Yellowstone National Park
large national park in the U.S. states of Wyoming, Idaho, and Montana.