On Earth, there are two equinoxes every year: one around March 21 and another around September 22.
The Equator, at 0° latitude, receives a maximum intensity of the sun's rays all year.
Like the solstices, equinoxes are historic markers of seasonal change.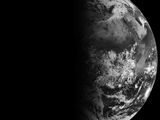 Songpyeon
Songpyeon are an iconic food associated with Chuseok, the Korean holiday around the September equinox. Songpyeon are rice cakes made with freshly harvested rice and filled with sesame seeds, chestnuts, or red bean paste. The treats are steamed and traditionally served on layers of pine needles. Songpyeon symbolize important elements of Chuseok. The bite-sized food encourages sharing, and the rice and fillings are all harvested in late summer and autumn. Finally, the scent of pine, a sturdy evergreen, symbolizes autumn and the slow onset of the cold season on the Korean peninsula.
Chuseok Spam
Chuseok, the huge Korean holiday around the September equinox, is a time for family gatherings and gift-giving. In addition to traditional autumn foods such as apples and nuts, one of the most popular Chuseok gifts are boxed sets of Spam.
Shadowy Snake
Ancient Mayan architects may have honored the equinoxes in the design the enormous stone pyramid nicknamed "El Castillo" at Chichen-Itza, Mexico. Every equinox, the light of the sun casts shadows down the steps of the pyramid, making it look like a slithering serpent. "El Castillo" is a temple honoring the serpent god Kukulcan.

Archaeologists and anthropologists have not determined if this phenomenon was intentional or a happy accident.
Burning of the Socks
Not all festivals surrounding the equinox are ancient. Annapolis, Maryland, celebrates The Burning of the Socks every March equinox. Chesapeake Bay boaters traditionally only wear socks between winter and spring. The Burning of the Socks signifies the warmer, sock-less spring season.