The upwelling process also influences global climate. The warm ocean temperature in the western Pacific contributes to increased rainfall around the islands of Indonesia and New Guinea. The air influenced by the cool eastern Pacific, along the coast of South America, remains relatively dry.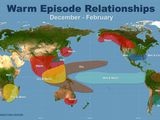 Olympic El Niño 
El Niño put a damper on the 2010 Winter Olympics in Vancouver, British Colombia, Canada. The weather pattern brought unseasonably warm weather to the normally chilly coastal town.
Fertilizer
El Niño devastates western South American fisheries—and also fertilizer industries. The South American fertilizer industry is driven by the droppings of seabirds, whose population declines during El Niño events due to a reduction in their food source (fish).
In the Rings
Scientists are able to detect an El Niño event and its effects on the climate through a variety of technological and natural sciences. One of these natural sciences is dendrochronology, or the study of tree rings. Dendrochronologists study the rings of a tree in order to understand climatic conditions during specific time periods. Thin rings often indicate drier seasons while fatter rings indicate rainy seasons. Depending on where the tree is, scientists can see past El Niño events in trees that exhibit signs of much rainier or drier seasons that normal.