Dew is most likely to form at night, as temperatures drop and objects cool. However, dew can form whenever a dew point is reached. 
Although warm, humid areas commonly experience heavy dew, dew does not form in amounts people could to collect as a water source.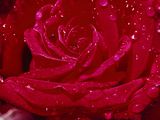 Dewy Eyes
The water droplets that form on eyeglasses in hot, humid atmospheres is dew. However, the term "condensation," which applies to the process as well as the moisture itself, is usually used.
process by which water vapor becomes liquid.
condense
to turn from gas to liquid.
condenser
tool to turn gas to liquid.
water droplets condensed from the atmosphere onto cool surfaces near the ground.
dew point
temperature at which water in the air condenses to form water droplets on objects near the ground.
thin coat of ice covering objects when the dew point is below freezing.
gas
state of matter with no fixed shape that will fill any container uniformly. Gas molecules are in constant, random motion.
harvest
the gathering and collection of crops, including both plants and animals.
humid
air containing a large amount of water vapor.
liquid
state of matter with no fixed shape and molecules that remain loosely bound with each other.
sublimate
to change from a solid state to a gas state, without becoming liquid.
technology
the science of using tools and complex machines to make human life easier or more profitable.
degree of hotness or coldness measured by a thermometer with a numerical scale.
region generally located between the Tropic of Cancer (23 1/2 degrees north of the Equator) and the Tropic of Capricorn (23 1/2 degrees south of the Equator).
vapor
visible liquid suspended in the air, such as fog.
state of the atmosphere, including temperature, atmospheric pressure, wind, humidity, precipitation, and cloudiness.