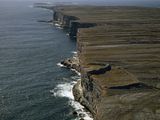 Verona Rupes
Verona Rupes is a cliff on Miranda, a moon of Uranus. Verona Rupes is probably the tallest cliff in the solar system, rising as much as 10 kilometers (6.2 miles) from its base.
Don't Look Up
Some of the largest and steepest cliffs on Earth are actually found under water. These cliffs are sometimes called oceanic trenches.
alluvium
gravel, sand, and smaller materials deposited by flowing water.
deep, narrow valley with steep sides.
steep wall of rock, earth, or ice.
edge of land along the sea or other large body of water.
act in which earth is worn away, often by water, wind, or ice.
the geographic features of a region.
mountaineer
someone who climbs mountains.
rock
natural substance composed of solid mineral matter.
scree
accumulation of broken rocks, boulders, and other material at the base of cliffs or other tall rock formations.
solid material transported and deposited by water, ice, and wind.
valley
depression in the Earth between hills.
vegetation
all the plant life of a specific place.
vertical
up-down direction, or at a right angle to Earth and the horizon.
flow of water descending steeply over a cliff. Also called a cascade.
the breaking down or dissolving of the Earth's surface rocks and minerals.
Articles & Profiles
Websites